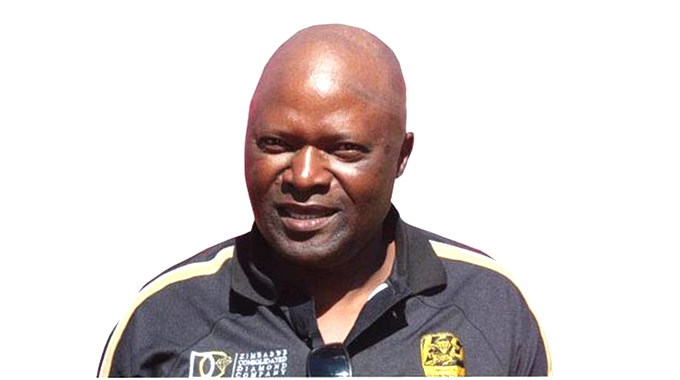 The ManicaPost
Fungayi Munyoro Sports Correspondent
FIRED Manica Diamonds  coach Luke 'Vahombe' Masomere  says he is not bitter at being shown the exit door, but feels disappointed that he was not  given a chance to finish the project he started.
Masomere was dismissed on Sunday last week after a string of poor results by the team.
At the time of the sacking, the Gem boys, as Manica Diamonds are fondly known,had failed to register a single win in their last seven outings.
The much travelled gaffer joined the team in 2017 while it was still in Division One and guided it to the Premier Soccer League in the same season.
The Gem boys currently occupy the 11th position on the log with 19 points.
In an exclusive interview with Post Sport, Masomere said he was disappointed as he wanted to take the team to greater heights.
He pointed accusing fingers to the club-vice chairman Lovet Wadawareva for his expulsion. He said he had done his best for the team but was unlucky as results were not coming.
"Problems started long back at Manica Diamonds but I did not want to talk about it as a coach. I did not want to tarnish the image of the project that I started in 2017. I was so attached to the team. I hid a lot of things  to avoid tarnishing the image of the organisation. I am not bitter but I am just not happy to leave the project that I have started. I am only disappointed that I am gone before I achieved my set targets," he said.
"In January  this year , Wadawareva, Lazarus Muhoni and Lloyd Chinawa recruited  players while I was on holiday in Zvishavane. Wadawareva started frustrating me long back as he wanted to ouster me from the club.
"The majority of the players they recruited  were from my wish list but they also brought their own players to the team. Those players were brought strategically. They went on to set unrealistic targets not considering that it was our maiden season. They wanted me to produce results with players  they had signed but who were not even in my plans," he said.
Masomere said he never had a chance to make specific demands in his contract as he only received it when all other clubs had already signed their coaches.
"I was never given a chance to  say my views  concerning my contract. I just accepted what they had on offer. They thought I was not going to accept the contract so that they have a reason to fire me. I  was the last one to sign the contract on January 7," he said.
He also said low morale in the team also contributed to poor results as the players were frustrated by the delays in salaries. He showed Post Sport some of the papers including the letter that he wrote to the executive complaining about the welfare of players which Masomere said the executive did not respond to.
"I was never paid my salary on time. The players were also paid like that and I ended up borrowing money for some of my players almost every month to pay for their rentals. Players did not have equipment even football boots. I had to substitute one player after his boot got torn when we played Highlanders FC," he said.
The former Dembare gaffer said the club had refused to sign more players during the window period.
"We had made so many mistakes in the recruitment process at the beginning of the season.  I wanted to add one or two players during the window period but they told me that there was no money. Big clubs like Dembare and Ngezi Platinum beefed up their squads to change the fortunes of their teams. I had targeted Evans Katema, David Temwanjira and Simba Nhivi but they were grabbed by other clubs," he said.
Masomere said he is ready to take offers from clubs who are interested in his services
"If  I am given another opportunity to coach, I will grab it with both hands but I think I am going home to rest now. I have a lot of things to do but football has been my profession.  I will always be available for offers. My contract was running till 2021," he said.