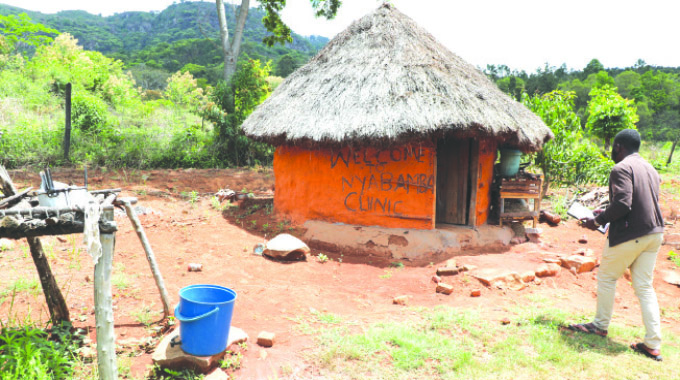 The ManicaPost
Tendai Gukutikwa
Post Correspondent
WRITTEN boldly in charcoal on the walls of a mud plastered hovel, the words 'Welcome to Nyabamba Clinic' are the first thing that draws any visitor's attention to the rural clinic.
Just beside the clinic hut is a farm-house that stands in the midst of many other huts in what seems like a workers' compound.
Formerly a farm house in the midst of a tree plantation ran by Wattle Company and once occupied by the farm manager, the three-roomed structure now serves as a clinic for more than 4 000 villagers in Chimanimani District.
The clinic serves villagers from Wards 16a, 16b and 13.
Despite being the only health facility for the villagers, expecting mothers always have a nightmare as there is no maternity ward.
In an area where child marriages and pregnancies are rife, the need for an antenatal care facility is urgent. Expecting mothers are being forced to walk for about 20km to the nearest Rusitu Mission Hospital.
This has resulted in an increase in the number of maternal deaths in the area.
Three pregnant 16-year-old teenagers from Nyahode area recently died on their way to access antenatal care at Rusitu Mission Hospital.
This was after they had been referred by health personnel at Nyabamba Clinic to the mission hospital as the makeshift health institute did not have facilities to cater for their needs. Sister Velonica Wachi, one of the three members of staff at the clinic, said several young women have died during the past few years while giving birth.
"Maternal deaths are one of the biggest challenge we are facing as a community. Recently, we witnessed the death of three girls on their way to the hospital as we have no infrastructure to accommodate them. In the past few years, close to 10 pregnant women, including minors, have died. This is a cause for concern.
"These pregnant women need proper antenatal care services but they are forced to walk up to 20km on foot to the closest hospital, Rusitu Mission Hospital. They have to walk since our roads were destroyed by Cyclone Idai. We do not have public transport here," said Sister Wachi.
She added: "In this area, young girls are getting married. They need constant check-ups and antenatal care during their pregnancies to avoid complications during childbirth, therefore the need for a maternity wing or room at our clinic."
While the farm house-turned-clinic is a three-roomed structure, only one room is used for health delivery services, leaving them with no room to serve those requiring antenatal care services even if they get equipment from development partners.
One room, which should be used as a pharmacy, is used as accommodation by Sister Wachi, while the other room is used by her counterpart.
The common room is what the staff uses to conduct the clinic's business. It is used as a consultation room, out-patients room and for check-ups, etcetera.
Village health worker, Mrs Vailet Makumire said although they were trained by the Ministry of Health and Child Care to assist with mobilising communities and pregnant women to book and deliver in health facilities, there is no such infrastructure at the clinic, thereby making their job very difficult.
"Each ward has at least one village health worker. We are helping the teenage mothers to book early so that they deliver in health facilities, but since they dread the long walk to the hospitals, most do not book and end up just going there to deliver. Some die on their way there, but some make it," she said.
Adolescent mothers interviewed by The Manica Post said while it is difficult for them to walk on foot and seek maternal services 20km away from home, they are still grateful that they have a clinic nearby, where they can access their babies' medical check-ups.
Chipo Maguni (not real name) (16), mother to a five-month-old baby, said the long walk to the referral hospital is a big challenge to all expecting mothers.
"Some of my friends are now late and it is painful to even think about it. We were advised to book early at the hospital but some heavily pregnant women found themselves walking long distances to get to the delivery table.
"I believe the maternal deaths are caused by too much pressure from walking the long distance as well as other stresses. I am sure if the long distance challenge is eliminated through the establishment of maternal services at Nyabamba Clinic, maternal deaths will drastically be reduced," she said.
According to the World Health Organisation, 15 Zimbabwean women die daily during childbirth.