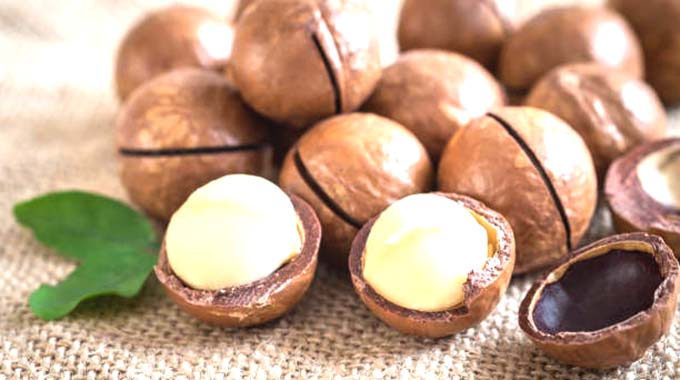 The ManicaPost
Samuel Kadungure
Senior Reporter
THERE are distressing developing at the farm gates in Chipinge — famous for macadamia nuts production — as the twin evils of market volatility and theft gradually destroy livelihoods, forcing growers to contemplate abandoning the trade.
The district was initially famous for tea and coffee plantations as well as dairy farming until prices crushed on the global market.
Macadamia nuts then became the new lifeline for indigenous farmers.
However, history seems to be repeating itself as the price of macadamia has of late been on a steady decline, thereby compromising the farmers' earnings.
Macadamia had become a lifeline for more than 400 farmers in Chipinge, which account for about 8 000 hectares, with the capacity to produce 30 000 tonnes annually.
The raw nuts are exported to Asian countries where demand is high, pushing up the prices in the last few years.
In 2010, a kilogramme cost 30 cents, before it rose to 90 cents in 2011.
In 2012, it jumped to $1,50, and then $2 in 2013 and 2014.
The price however, sunk to $1,80 in 2015 due to poor quality, before rising to $2,20 in 2016, and then to US$3,20 in 2017.
In 2018 it was up to US$3,50 and US$3,80 in 2019.
Things took a nasty downturn in 2020 and 2021 due to the Covid-19 induced lockdowns, which gave the buyers an opportunity to collude to control the price of the nuts.
As a result, the price is now in a free-fall.
Sadly, the growers' share of income in the macadamia value chain is now the lowest.
In fact, farmers are no longer getting enough to cover the cost of production.
On the other hand, the foreign buyers are making a killing from milking the farmers' hard work.
As it stands, the farmers are demanding the 2019 prices to cover the costs of production, with the buyers not budging.
This has resulted in a standstill that is a reflection of the prevailing agrarian distress.
Macadamia farmers told The Manica Post that the marketing system enables private buyers to make super profits at their expense.
They say the market is controlled by intermediaries whose role is quite exploitative.
These buyers then sell the nuts at a much higher price in foreign markets in order to get maximum profits without having to make any investment.
The farmers said inputs costs per hectare are very high, and prices should be raised for them to sustain production.
As if the pricing issue is not enough, the farmers are also grappling with thefts which has a profound impact on the sustainability and profitability to the venture.
They are therefore forced to spend vast sums of money on security measures such as electric fencing and security guards, something they can hardly afford.
It is believed that well-organised and profit-driven gangs are wreaking havoc in macadamia farms.
Macadamia Producers' Association of Zimbabwe (MPAZ) chairperson, Brigadier-General (Retired) Zitteron Sabheka said farmers are grappling with the twin-evils of nuts theft and an exploitative market system.
"We are at a standstill with the buyers. In 2020 and 2021 they exploited us, taking advantage of the Covid-19 induced lockdowns. They then formed an oligopoly to control the price of macadamia nuts and ensure that it ranges between US$1,20 and US$1,50 per kg.
"As an association, we are not in agreement with that, cognisant of the costs of production involved.
"We have told them to either back off or revert to the 2019 pricing regime of between US$2,80 and US$3,40 per kg and then negotiate a win-win, not this winner-takes-all mentality.
"They are resisting that, arguing that there is no demand for the nuts on the foreign market due to Covid-19. Why then are they buying them if there is no demand? Do people stop eating because there is Covid-19," he said.
He added: "Also linked to this exploitation is thefts of the nuts by profit-driven gangs. We implore buyers to purchase from the farm gates and shun unscrupulous elements that deliver stolen macadamia nuts in buckets."
Police moved in to beef up security, but many macadamia nuts orchards remain under threat as the nuts are on demand from buyers.
The situation was compounded by the fact that in cases where farmers fail to pay their workers on time, the farm workers hit back by stealing and selling the nuts through other registered farmers.
MPAZ secretary general, Mr James Maisiri said despite the recent promulgation of Statutory Instrument 138 of 2019, Agricultural Marketing Authority (Macadamia Nuts) Regulations, many loopholes still exist in the sector.
SI 138 of 2019, among other things, controls and regulates the marketing of macadamia nuts.
It also promotes and protects the sale of macadamia nuts, institutes effective systems to control theft of the nuts and collates statistics relating to the production, marketing, exportation and consumption or use of macadamia nuts.
It compels all macadamia growers, processors or buyers to be registered.
"The prices are unacceptably low, and this has been the challenge over the past two seasons. We are relying on two companies that a colluding to rip-off farmers.
"They are paying peanuts, and farmers will not be able to go back to the fields. They are pushing us out of business," Mr Maisiri said.
He said a farmer needs at least US$5 000 to cultivate a hectare of macadamia, and should get US$12 000 in return to remain viable.
"A minimum price of US$2,50 per kg will be acceptable. At US$1,50, farmers cannot even break even and recoup their investments," he said.
Mr Maisiri said the Level Four sentence which can be imposed to offenders is a good starting point to curtail thefts.