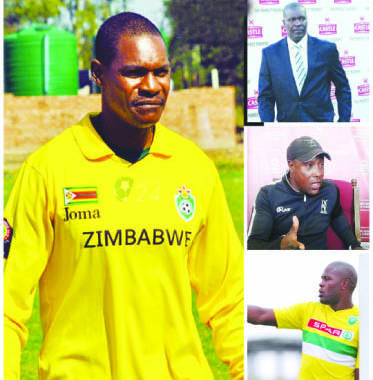 The ManicaPost
Moffat Mungazi
Sports Reporter
FOOTBALL followers across Manicaland have hailed the appointment of Norman Mapeza as interim Warriors coach, describing it as a positive step in the right direction.
The ex-Warriors skipper was thrust into the hot seat following the sacking of expatriate coach, Zdravko"Loga" Logaruši following a dismal run of poor results that yielded a single victory in 14 games since taking over from Joey "Mafero" Antipas in February 2020.
The respected tactician assumes duty on a caretaker basis after agreeing to a three-month arrangement last week, which will see him take charge of the remainder of the senior men soccer team's 2022 FIFA World Cup qualifying campaign.
Mapeza, who will remain in his role at FC Platinum, will be assisted by Taurai Mangwiro, Mandla "Lulu" Mpofu and Energy "Gokwe" Murambadoro as the goalkeepers' coach.
His first competitive assignment is next month's potentially explosive back-to-back qualifiers against the Black Stars of Ghana.
With the stage now set, fans in the province expressed optimism that the shrewd tactician can turn around the Warriors' fortunes.
The majority of supporters are virtually in complete concurrence that Mapeza is the right man for the job.
Fans interviewed by Post Sport greeted the gaffer's return with glee.
"Norman Mapeza was always going to be the natural choice for this role. As progressive friends of the game, we hail his appointment and are confident he can deliver. Our national team is now in capable hands under the stewardship of Mapeza. We are looking forward to great times again for the team," said Tonderai Nyakunu in Nyanga.
As a multiple title-winning trainer, the former Galatasaray man can deliver at that level, opines local soccer enthusiast Dennis "Coach Matute" Hamunakwadi.
"I am sure he was relishing this opportunity because he has a lot to prove. Having failed to grace the World Cup finals as a player, I think he is keen to do it as a coach," said Hamunakwadi.
He added: "His work at FC Platinum is ample proof of what he is capable of. He earlier proved himself with Monomotopa when he was just starting out and there is no doubt that he also improved Chippa United during his brief spell in South Africa.
"This should not be difficult for him because I think he commands respect in the dressing room as players will look up to him going by the success that has followed both his playing and coaching careers."
The return of the former Monomotapa coach signals the restoration of normalcy at ZIFA, Chenjerai Sithole of Chipinge hopes.
Said Sithole: "He is known to be a forthright person who wants the game run properly and part of his success at FC Platinum boils down to how the club administration and management backs him. The Association must now put its house in order and create a conducive environment to enable the technical team to deliver.
"Mapeza has shown his patriotism and enthusiasm by taking up the offer at short notice and he deserves plaudits for that. ZIFA now have to back him thoroughly every step of the way by doing everything possible to ensure that they secure him all the players on his wish list, especially the British Brigade."
Turning to a local trainer for salvation has excited Chimanimani-based Tendai Chiripanhura.
"I think ZIFA have now finally seen the light that our own domestic coaches are equally competent, if not better, than those foreign ones they were always fond of hiring. Loga was an expensive experiment, yet we have always had viable alternatives available locally. Besides, we have always fared well at regional tournaments and qualified for continental finals under the guidance of Zimbabwean sons. I have no doubt that Mapeza can take us places as well," said Chiripanhura.
Silas Nhewedzo of Rusape reckons Mapeza's work is already cut out and he has to immediately hit the ground running.
"Mapeza is coming in against the backdrop of his predecessor's tumultuous tenure and a lot is expected of him to get things right. This is more like unfinished business for him after he left unceremoniously the last time out. He has three months to do his job during the qualifiers and he shall be judged on the results he produces over that period," said Nhewedzo.
The former Zimbabwe international is expected to breathe life into a seemingly faltering campaign that limped to a lame take-off which saw the Warriors collect just a single point in their Group G openers against Ethiopia and South Africa.