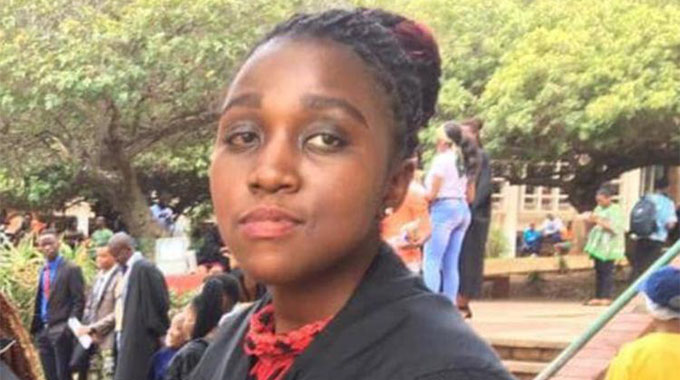 The ManicaPost
Weekender Correspondent
A former junior parliamentarian is hogging the limelight in the social media circles for the wrong reasons following a screenshot of her WhatsApp group conversation that leaked and went viral.
On the screenshot, Zvikomborero Gowere (21) tells the group that she is seeking a blesser and specifically states that she wants one who is rich and based in Mutare.
It seems, the former junior Senator was inspired by the "Ndinyengeiwo| girl, Lorraine Guyo, who in February posted a video on her WhatsApp status begging men to propose love to her. Guyo has since become famous and a celebrity in the social media cirles because of the video clip.
Gowere writes, "Hie everyone. Am looking for a blessor in MUTARE, I REPEAT MUTARE ONLY. INBOX SERIOUS RICH GUYS ONLY PLEASE"  On the message, the 21-year-old who just graduated from a local college uses the green buck emoji countless times. The screenshot of the group chat is circulating on WhatsApp, Facebook and Twitter.
To find out if she meant it in the message or was just joking, The Weekender called her under the guise of an interested blesser, and told her that they had come across her message in one of her WhatsApp groups, and wondered if she was interested.
Gowere asked The Weekender reporter to pick her up that evening since she was busy during the day and stated that she indeed was serious on her group message.
"You can come pick me up tonight so that we can talk, I am occupied during the day," she answered.
When later called for a comment by The Weekender reporter who had identified herself, Gowere declined commenting and cut the phone immediately. Efforts to further contact her were fruitless as her phone suddenly became unreachable.
In  street lingo, a "blesser" is an older man with a lot of money dating young girls.
Formerly known as sugar daddies, the older men provide expensive gifts and a lot of money and sometimes luxurious trips in exchange for sexual favours or (but rarely) for company. Young women turn to "blessers" for lavish lifestyles and to escape poverty.