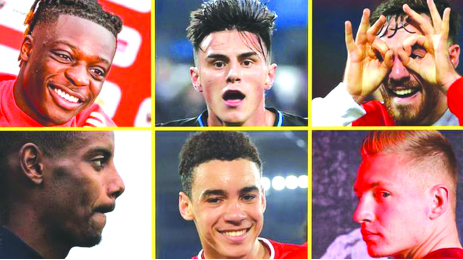 The ManicaPost
THE world is waiting for the next generation of superstars, so could someone surprise us and emerge this summer?
Not many of the 622 players who could feature at Euro 2020 could be classed as total unknowns, but there will be some unfamiliar faces hoping that this is their breakout tournament in the way the 2018 World Cup was for France's Kylian Mbappe.
So, who should you look out for this time, apart from Mbappe, young players from the home nations or people we have already seen plenty of in the Premier League?
Here, BBC Sport's TV and radio commentators, and experts from five live's Daily Euros podcast have picked out young players from around Europe who are worth watching this summer.
1. Jeremy Doku (Belgium) aka The King of DribblesAge: 19    Position: striker/winger    Club: Rennes Steve Wilson: Belgium have a lot of goalscorers, so for Doku to force his way into the reckoning whilst in his teens is some achievement. Quick and direct, the former Anderlecht striker joined Rennes for more than £20m in October and has found life harder in France. Nevertheless, Roberto Martinez has seen enough to stick with him. Doku scored in his first international start against Iceland last September and registered a goal and two assists against Belarus in March.Conor McNamara: I love watching this guy play, he is explosive to watch and similar in style to Wolves' Adama Traore.
However, a thing that frustrates me about Traore is that he often takes a few touches to get up to full speed. The Wolves winger often takes the ball at a standstill and then tries to accelerate past opponents. What I like about Doku is that invariably his first touch propels him forward. He doesn't begin from a standing start like Traore often does.The one thing lacking from his club stats are more goals, but he has hit the ground running with the international team. It will be interesting to see if Martinez plays him from the start in this tournament.
2. Jordan Larsson (Sweden)Age: 23     Position: striker    Club: Spartak Moscow Radio 5 live football correspondent John Murray: Son of Henrik, named after Michael, he experienced trophy-winning celebrations on the pitch at Celtic Park in the arms of his father. Has scored 15 goals for Spartak Moscow this season.
3. Jules Kounde (France) aka The New CafuAge: 22    Position: centre-back     Club: Sevilla Guy Mowbray: One of the hottest properties in Europe right now might not get much game time at the tournament, but that won't stop huge offers being put to Sevilla this summer.
A mature, 'modern' centre-back who's good in the air despite being under 6ft tall, he's the perfect foil for a more aggressive defensive partner. Think Virgil van Dijk or Ruben Dias alongside him, perhaps.Manchester City tried to buy him last year but got Dias instead (good move as it turned out!) and they'll still be watching with interest along with every other major club.
His only problem with France – as Aymeric Laporte discovered – is getting to the front of the queue of superb central defenders. Julian Laurens on the Daily Euros podcast: He is not the tallest for a centre-back but he is still good in the air, and he has this intelligence – for positioning and the awareness of space – plus the pace that helps, and he is very good on the ball.
4. Adam Hlozek (Czech Republic) aka Golden BoyAge: 18     Position: striker     Club: Sparta Prague Vicki Sparks: Billed as the biggest Czech talent since Tomas Rosicky, the teenage forward has had a superb season. Despite missing four-and-a-half months with a foot injury, he finished as the joint-top scorer in the Czech top flight, with 15 goals in just 19 appearances for Sparta Prague – who acted shrewdly in tying him down to a new four-year contract at the end of May, amid rumoured interest from West Ham.
Hlozek made history on his international debut in September, becoming the youngest player in the Czech Republic's history at the tender age of 18. Injury, though, could undercut his chances on the big stage this summer – he's been struggling with a minor hip problem, but manager Jaroslav Silhavy is hopeful he will recover in time for the Euros.
Conor McNamara: Hlozek is not just being brought to this tournament to prepare him for the future. He is banging on the door to see game time on the pitch at Euro 2020.There's a good reason he is such big news in the Czech Republic. His haul for Sparta this season included a hat-trick in April and four goals in 23 minutes on the last day of the Czech campaign.
Steve Wilson: Players from the Czech Republic haven't been in such demand since the era of Pavel Nedved, Karol Poborsky, Patrik Berger and Vladimir Smicer. At 17, Hlozek became the youngest ever scorer in the Czech Fortuna Liga and he has added another 27 goals since.Oh, and he makes goals too – he also got seven assists this season.
5. Becir Omeragic (Switzerland)Age: 19     Position: centre-back     Club: FC Zurich Steve Wilson: A right-footed centre-half who made his international debut in October, impressing as he played the full 90 minutes against Croatia. Currently with FC Zurich, but courted by RB Salzburg, Borussia Monchengladbach and Wolfsburg.
Omeragic has a Bosnian background and is from a footballing family – his dad and uncle were professionals, his elder brother Nedim is also at Zurich and his cousin Edin is a goalkeeper for Servette. On the minus side he has occasionally been forced to miss games and training because of debilitating migraines. – BBCsport.