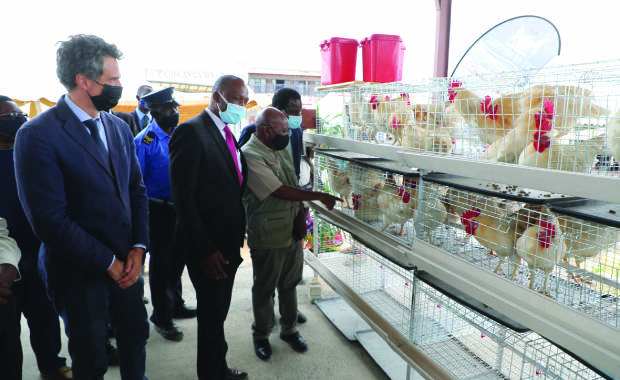 The ManicaPost
Ray Bande
Senior Reporter
THE European Union (EU) is adopting a new strategy to run from 2021 to 2027 as it intensifies its development interventions in Zimbabwe, thanks to the Second Republic's engagement and re-engagement policy.
In an interview on the sidelines of last week's launch of Chikanga Live-bird and Egg Market facilitated by Inclusive Poultry Value Chain (IPVC) with support from the EU, EU head of Cooperation in Zimbabwe, Mr Franck Porte said they were adopting as part of finding developmental solutions for Zimbabwe.
"We are about to adopt a new strategy for Zimbabwe that will run from 2021 to 2027 and we will start rolling out this programme in the coming few months. We have different priority areas that include recovery after the Covid-19 scourge.
"We also have smart agriculture as another priority area. We are happy with the cooperation we are having with the Government of Zimbabwe.
''I understand that the small-scale poultry producers sector was greatly affected like all other value chains during the Covid-19 pandemic lockdowns," said Mr Porte, who was on his maiden site visit since his recent appointment to Zimbabwe.
Mr Porte spoke about the planning and relevance of the IPVC project.
With EU funding, the project runs under the auspices of the Zimbabwe Agricultural Growth Programme (ZAPG).
"We have this programme (Poultry Production Project) as well, which was designed a few years ago and it is being fully implemented by the Government through its Lands, Agriculture, Water, Fisheries and Rural Resettlement Ministry.
"So the thrust now is to provide opportunities for our poultry producers. The next step is to provide profitable markets, in particular the European market," he said.
EU policies aim to ensure the free movement of people, goods, services and capital within the internal market, enact legislation in justice and home affairs and maintain common policies on trade, agriculture, fisheries and regional development.
Speaking during the poultry market place launch, IPVC leader, Mr Joseph Matiza said: "To cap it all, the 2 568 small-scale producers who have joined and become full members to the established poultry business associations across the country are benefiting from services offered by the Poultry Business Units (PBS).
''They have realised a stock feeds and day-old chicks procurement value of more than US$1 million in the past 12 months. They have procured up to 1 678 metric tonnes of feed and 218 204 day-old chicks worth over US$1 million.
"As IPVC, what we have been able to demonstrate is the power of collective action between small-scale producers, improving their net benefit from participation in the poultry value chain. This is economically, socially and environmentally correct as small-scale producers contribute over two thirds of the commercial broiler production, about three fifths of the commercial egg production and almost all the indigenous roadrunners and dual birds poultry."
The IPVC Project is part of the EU-funded Zimbabwe Agricultural Growth Programme (ZAGP), a response to tackle the country's livestock challenges through financial support from the EU.
While funding amounts to 40 million Euros, six million Euros of the amount was allocated to IPVC.
The IPVC Funding Project is meant to run for 40 months – beginning in February 2019 and scheduled to end in May 2022 – with objectives that include reducing poultry production costs, establishing functional poultry business associations and improving poultry productivity, among others.
Mutare mayor, Councillor Blessing Tandi thanked the partnership that resulted in the construction of a new ChikangaLive-bird and Egg Market (MusikaWehuku).
"We are here to celebrate the results of successful partnerships. As Mutare City, we value progressive partners who have a vision of advancing the city as we all know we are redesigning our city to a Smart City Status," he said.
Cllr Tandi applauded the architects of the project for being gender sensitive by ensuring that 60 percent of beneficiaries are female.