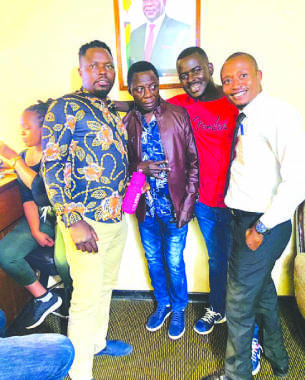 The ManicaPost
Liberty Dube
Weekender Correspondent
SUNGURA kingpin, Alick Macheso, says he has devised strategic ways to survive, and stay afloat together with his band, Orchestra Mberikwazvo during this Covid-19-induced lockdown.
Apart from his family, the talented and versatile guitarist takes care of more than 25 band members at a time when there are no live shows.
The lockdown which is in its second year has not only impacted negatively on Macheso and other artistes, but the showbiz industry at large, as performing and visual arts largely depend on gatherings.
Macheso opened up to The Weekender during his tour of Mutare last week where he spent eight days meeting fans in the eastern border city as well as visiting tourism facilities such as Troutberk Inn, Nyanga and Mutasa.
He was hosted by show promoter and businessman, Lovemore Mandimutsira, who has been one of Macheso's shoulders to lean on since the beginning of lockdown last year in March.
The sungura muso brought business in Mutare's Central Business District to a halt after he walked around meeting fans among them vendors, touts, kombi drivers, shop and bar owners.
So humble was Macheso that he also took time to interact with the visually impaired and less privileged members of the society on the pavements.
"Glory be to God. The Saviour has been taking care of us every day of our lives, especially during this time where the Covid-19 plague has claimed thousands of lives. Although gatherings were banned, we have been surviving on proceeds from endorsement deals that we earlier had, and currently have with several corporates.
"We are grateful with our partners who have been playing a critical role in making sure that the Orchestra Mberikwazvo ship does not sink. We have a band that has over 25 people, and we can safely say that they are all well taken care of. The Mberikwazvo family has remained united, and we are happy that there is no single band member who left. We have a strong fan base here in Mutare, so we decided to visit the city, and meet them as a way of saying thank you.
"The visit to Mutare, Nyanga and Watsomba was also important for us as we managed to take a break from our usual tight schedule in Harare. We also thank show promoter, Lovemore Mandimutsira, who hosted us for a week. He catered for all our needs, and we are grateful," said Macheso, speaking through his manager, Tich Makahamadze.
Macheso who last released a full album, Dzinosvitsa Kure in 2018, added that the band is now working on a new project due to be released on a date yet to be announced.
"The response that we received from our legion of followers worldwide on our first ever single track, Zuro ndiZuro released last year was overwhelming. We are now working on a full album set to be released on a date to be announced.
"The boys are spending sleepless nights in the studio making sure that it is another sublime project that will please, and heal many souls emotionally. We cannot divulge the exact dates as they are a lot of things still to be done before the album hits the streets," he added.