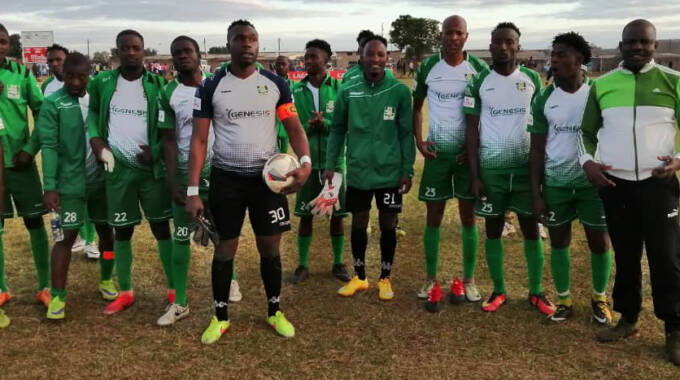 The ManicaPost
Ray Bande
Senior Reporter
THE 2021/2022 Castle Lager Premiership last round of league fixtures will not only be Tenax C.S FC's last match as a top-flight outfit following their relegation, but it will also be their last supper as a club after the Zimbabwe Prisons and Correctional Services (ZPCS) decided to merge all their football teams into one starting next year, Post Sport can reveal.
After 12 years in existence, Tenax C.S FC, a project owned and run by the ZPCS, which was formed as a pastime and wellness initiative for officers based in the eastern border city will call it a day as a team in a competitive league come the end of this season.
ZPCS national sports officer, Richard Tarangeyi told Post Sports that a decision was made to have all their football teams merged into one unit.
"Yes, the ZPCS football teams – Tenax C.S FC and Hwahwa are merging into one club. The Commissioner General announced that we will not have many clubs under the ZPCS banner since this presents administration and funding challenges.
"Therefore, moving forward, we will bring all our talents into one basket. The decision has already been made and what now remains is the logistical arrangements on where the team will be based and which players will make up the new ZPCS squad," he said.
Surviving relegation is now more of a Utopian dream for Tenax C.S FC as they need to win all their remaining three league fixtures, while ZPC Kariba, the club just above the cut-off point, as well as Harare City, who are above them in the relegation zone, lose all the remaining three rounds of league matches – a turn of events that could be next to a miracle.
Even coach, Shadreck 'Father' Mugurasave conceded that surviving relegation is now a tall order.
"It will certainly be difficult for us to survive. It is no longer in our hands. Furthermore, judging by how we have been dropping points, it is not easy to say we have a good chance to survive. We just have to keep fighting, but we know it is no longer in our hands," said the former Buffaloes coach in a recent post-match interview at Sakubva Stadium.
With founding coach, Swift Dzangare, Tenax C.S FC survived through the years from a Division Two side and spent the greater of their existence in the Eastern Division One League where they settled for the bridesmaid position on three occasions.
The prison guards finally struck the right chord in 2019 when they pipped Mutare City Rovers in a tightly contested race for Premiership promotion.
However, since promotion into Premier Soccer League, funding has been their Achilles Heel as they found themselves occasionally extending a begging bowl to well-wishers in order for them to keep their heads above water in a league where costs are exorbitant.
Corporates in Mutare such as the Blessing Mangwiro-owned The Big Rock Logistics, mining entrepreneur, Scott Sakupwanya's Better Brands and businessman, Kenneth Muchina occasionally chipped in with financial and material assistance.
The club produced a number of players, top on the list are Manica Diamonds' striking pair of Nyasha Chintuli and Farai Muguwa, talented gunslinger, Joseph Jambo, Fadzanai Vinc, Simon Munemero and Knowledge Munzara among many others.