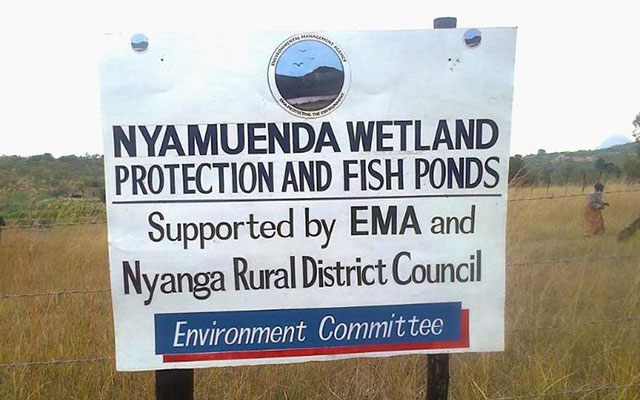 The ManicaPost
Samuel Kadungure Senior Reporter
ENVIRONMENTAL Management Agency has urged farmers to use wetlands in a more sustainable way to change their livelihoods.
Speaking at an all stakeholders indaba on wetlands management at Mutare Rural District Council offices recently, EMA provincial environmental manager, Mr Kingstone Chitotombe, said wetlands could be supportive during droughts if taken good care of.
He said farmers could turn to wetlands for crop, fish and animal husbandry projects and earn a living. He warned farmers against settling on and misusing wetlands.
Wetlands are areas that are saturated, either permanently or seasonally, such that it takes on the characteristics of a distinct ecosystem.
The primary factor that distinguishes wetlands from other land forms or water bodies is the characteristic vegetation of aquatic plants, adapted to the unique hydric soil.  Mr Chitotombe said: "Wetlands provide significant economic, social and cultural benefits. They are important for primary products such as pastures, timber and fish and support recreational and tourist activities.
They also help reduce the impacts from storm damage and flooding, maintain good water quality in rivers, recharge groundwater, store carbon, help stabilize climatic conditions and control pests.
"We can get a lot of benefits from wetlands around our communities if we put them into proper use. In cases of drought, wetlands can provide water for our crops, animals and projects like brick moulding among others. It is therefore important for us to know what we do with our wetlands," said Mr Chitotombe.
He discouraged local authorities and traditional leaders from issuing out residential and business stands on wetlands.
Mrs Zanele Furusa, a lecturer at Africa University's Department of Agriculture and Natural Resources Management, said it was vital for EMA and responsible authorities to educate people on the importance and benefits of wetlands.
"People should know the risks and importance of wetlands. It is therefore important for EMA to partner with Agritex and other stakeholders to launch awareness campaigns around the province.
"Traditional leaders should also use powers invested in them to bar people from misusing and settling on wetlands. In urban areas there should be citizen's arrests on those who misuse wetlands," said Mrs Furusa.
She also urged different stakeholders to create man made wetlands and restore existing ones.