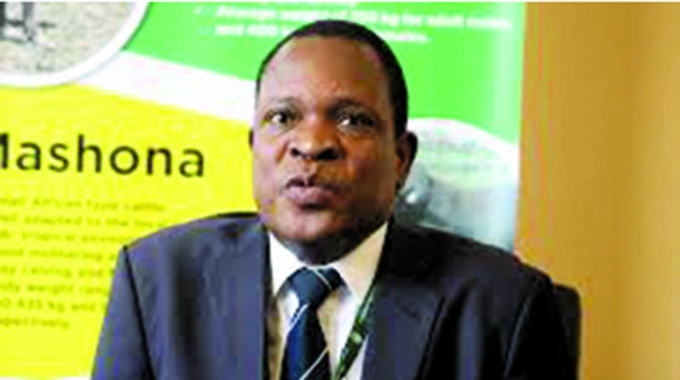 The ManicaPost
Samuel Kadungure
Senior Reporter
GOVERNMENT has come to the rescue of wheat farmers whose operations consume a lot of electricity by availing a stop order facility that allows them to pay their electricity bills upon delivering their produce to the Grain Marketing Board (GMB).
This was disclosed by Lands, Agriculture, Water, Fisheries and Rural Resettlement Minister Dr Anxious Masuka during his tour of wheat farms, GMB depots and tobacco auction floors in Rusape last Friday.
The move puts the nation on course to achieving the 55 000 hectares of wheat targeted this season. This year's national target of wheat is 340 000 tonnes, up from the 160 000 tonnes attained last year.
Manicaland has a target of 12 000ha, of which 3000ha is under the Presidential Scheme while 9000ha is under the CBZ Agro-Yield Command Agriculture.
Last year the province slightly missed its target of 7000ha — with an expected output of 36 400 metric tonnes — by 400ha due to a plethora of challenges, chief among them the shortage of fuel for tillage and planting.
Commercial wheat production is highly sensitive to moisture deficits, especially during the critical phases of heading, flowering and early grain-fill.
This means the crop has to be grown under uninterrupted irrigation, thereby making the continuous availability of water and electricity crucial.
Dr Masuka said farmers can split their domestic and commercial electricity usage and make the latter post-paid.
"Farmers have to split their domestic electricity from their commercial ones. Domestic electricity is pre-paid while commercial electricity is now post-paid.
Farmers can pay as they go if they have the capacity to do so. Those without the capacity can make use of the stop-order system and then pay after delivering their produce.
"Cabinet made the decision and it was communicated through the Minister of Energy and Power Development. ZETDC is now represented in our weekly wheat meetings.
"I visited some wheat farms and noticed that some meters were installed in an effort to make farmers pre-pay for the irrigation electricity. I have said no, that is contrary to the policy.
According to the policy, if you are doing commercial production, you can be on a post-paid arrangement with ZETDC. Only electricity for domestic consumption requires a dedicated pre-paid meter.
"This new development ensures that farmers can concentrate on producing a decent crop," said Dr Masuka.
Pre-paid electricity meters were introduced on farms in June 2015, with the power utility arguing that the move would keep the energy sector going. However due to the volatility of agricultural markets, changes in electricity charges has a significant impact on commercial farms' financial positions.
"Generally everything is on course. The inputs have been delayed but should be in Manicaland early next week to enable farmers to meet the extended planting deadline of June 10. In Makoni they are targeting 6000ha," said Dr Masuka.
Farmers with the early planted wheat are already top dressing it.
"We are looking forward to a very good season. Our national target is 340 000 metric tonnes of wheat, up from the 160 000 tonnes attained last year. This will enable us to meet our national requirement of the 360 000 tonnes," said Dr Masuka.
Farmers have pointed out that pre-payment of irrigation electricity is at variance with regional, continental and international trends, adding that it stifles agricultural commercial production.
A Zesa official who refused to be named citing protocol said the parastatal is fully behind the latest Government policy.
"We were asked to identify circuits or feeders connecting wheat farmers and we have forwarded the information to the national control centre in Harare so that these areas are spared from pre-payment," said the official.