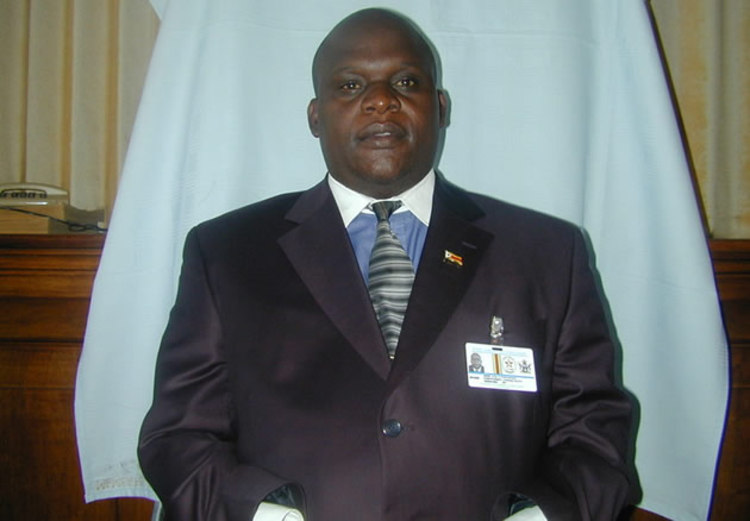 The ManicaPost
Ray Bande Senior Reporter
ONE'S key result area as a Member of Parliament is not only to be visible, but being actively involved in community development.
This is what Chipinge South MP Cde Enock Porusingazi (Zanu-PF) has tried to do since being elected into office in 2013.
Villagers in Chipinge South feel Cde Porusingazi has achieved more that they had anticipated in largely arid constituency.
Chief Garahwa, born Tobias Hliziyo, said Cde Porusingazi played the role of true father to the Chipinge South community by intervening in times of need and in infrastructural development.
"The evidence is on the ground for all to see what Cde Porusingazi did a sterling job. We are not talking about fictitious, but tangible development. The roads in this area are in good shape and at times he uses personal resources.
"Cde Porusingazi also provided transport to ferry supplementary feeds for school children around the constituency. This is the reason we voted for him and he did not let us down," said the traditional leader.
Mrs Mavis Mhlanga, of Ward 28, Mabeye village commended the work done by Cde Porusingazi saying he assisted many at personal level.
"People obviously have different expectations, but the community I come from is impressed by what Cde Porusingazi did. We had his ear. He is approachable. He would intervene to solve even personal problems and this is what we expect from our MP. He would move around the constituency, meeting, interacting and talking to villagers in simple language," she said.
Ward 26 (Matikwa area)'s Clr Misheck Busangavanye said Cde Porusingazi helped in the construction of classroom blocks at different schools in the constituency.
"Cde Porusingazi helped different schools in the construction of classroom blocks. In some cases he provided the building materials while in others he went out of the way to finance the construction of school infrastructure with his funds," he said.
Mr Thulani Semwayo, of Checheche Township said Cde Porusingazi was vocal in developmental initiatives around the Lowveld, especially at Checheche.
"He was very vocal about developmental issues in the Lowveld, especially Checheche Township. He lobbied extensively for the upgrading of Checheche into a town. We are with the level of infrastructure development at Checheche," he said.
Mrs Nomsa Makhuyana, also of Chcheche said Cde Porusingazi also lobbied extensively for the resealing of the Tanganda-Ngundi highway.
Refurbishment of the pothole-infested road is in progress.
The road was had degenerated into an atrocious state and it resurfacing has come as a huge relief to the motoring public.
"Everyone was complaining about the road and Cde Porusingazi did justice by listening to our grievances and presenting them in parliament.
We really appreciate his efforts, alongside others, to get the road resurfaced. The road had become a disaster, yet it was our only links to Mutare.
However, the MP has an equal measure of detractors who argued he could have done better.
Mr Irikidzai Dhliwayo, of Checheche said Cde Porusingazi fell short of the expectations as he did little to develop the area.
"We have some areas that were better off that they are now in terms of roads and infrastructure. Being a businessman that he is we expected him to move in and assist in the repairing roads and improve social infrastructure in our communities.
He did nothing except facilitating transportation of supplementary feeds to schools around the constituency," he said.
Mrs Sarah Mwaingeni, of Checheche said the refurbishment of Tanganda-Ngundu highway should not be attributed to an individual.
"Yes he was very vocal about the Tanganda-Ngundu highway, but he was not a lone voice. Many other players did so. It was a collective effort though we cannot completely steal the gloss from him as the MP," she said.
Cde Porusingazi said he spearheaded numerous developmental initiatives in the constituency.
These include resuscitation of various irrigation schemes to augment livelihoods in the vastly arid Chipinge South area.
"I have done my best to meet the people's expectations in Chipinge South. I have used personal resources to help in areas of need because as a leader I cannot wait for Government intervention where I could intervene as an individual.
It is not the duty of the MP to fork out own money to develop an area, but I had to do it as a leader. A leader cannot just stand aloof when things get out of hand as people expect solutions to challenges.
"Government is overburdened and I had to intervene in areas of education, agriculture, public health and gender parity.
"I made sure that I provide transport to ferry supplementary feeds to different schools dotted around the constituency. One should note that these schools are located in areas distant from the Grain Marketing Board," he said.
On his advocacy role of as parliamentarian, Cde Porusingazi said: "I was vocal on issues related to fair pricing of cotton produce as you are aware that Chipinge South is the hub of cotton production in the country.
I have been very vocal about the need to repair Tanganda-Ngundu highway and I am happy work has already started. By next week the loop should be resealed upto Checheche Township.
"I have also assisted a number of schools around the constituency with building material and in some cases met all costs of constructing classroom blocks. Schools I have assisted are Checheche High, Chisuma Primary, Mahachi Primary in Ward 24 and Chinyamukwakwa Secondary, among others".
The MP also facilitated electrification of school, clinics, business centres and rural homesteads in the constituency.
"We have managed through the rural electrification programme to light up Mabeye Clinic, Mabeye Primary School, Garahwa Primary School and several business centres and homesteads. Next month we will be commissioning electricity at Makoho Primary School," said Cdee Porusingazi.
He also assisted churches with construction material and funding.
Cde Porusingazi also assisted women in his constituency with self help projects such as the chicken rearing projects. The MP has also been funding a funeral assistance policy for all traditional leaders in the constituency.
We give Cde Porusingazi a 7.5/10 rating.