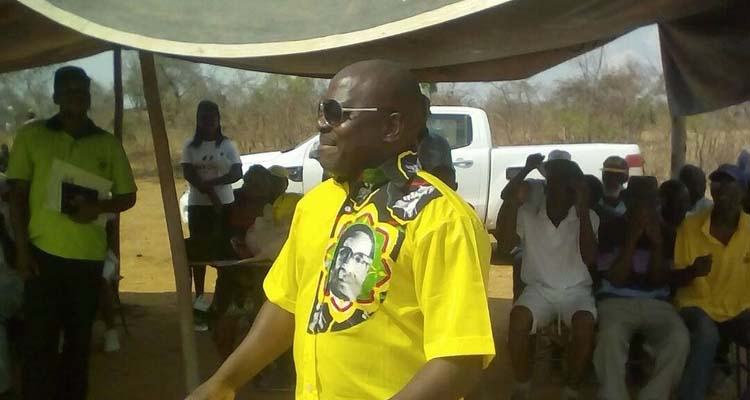 The ManicaPost
Samuel Kadungure Senior Reporter
MAKONI North legislator Cde Francis Muchenje (Zanu-PF) should be having sleepless nights as the electorate has a very poor impression of the development and representative work that he has done from 2013 to date. The electorate accuses him of making tall promises to them, going AWOL after being elected and only to reappear in the build up to the next election.
They do not even know whether he attend Parliament proceedings regularly and raise issues that are of concerns to them, as they rarely input and get feedback from him. Our weekly Constituency say's account is purely on the basis of work done by the retired Central Intelligence Organisation (CIO) trainer in respect of development initiatives to fulfil the constituency's basic needs, legislative, representative and oversight functions since 2013.
Cde Muchenje wrestled the seat from Mr Elton Mangoma with 9 412 votes, and voters expected him to be responsive and improve infrastructure, enhance rural electrification and technology, improve rural livelihoods, education and health care. Ward 36 Councillor Retired Major Zachariah Mhuruyengwe said Cde Muchenje does not listen to their views, and is more concerned with advancing his own ambitions than serving the people.
He said the MP went AWOL for the past four and half years, and re-emerged recently as momentum gathers towards the next election. He said the MP has the flexibility to ignore the wishes of both his party leadership and his constituency, therefore doing as he pleases.
"Leaders who serve the people pay attention to their constituents' demands and this is not the case with him. We do not have an MP, but are orphaned. His behaviour is akin of a lone ranger," he said.
He said the MP has not efficiently represented them or made a meaningful contribution in Parliament.
"He was among the worst performers, either he sat in Parliament without saying anything or continuously missed house sittings and whatever he said did not add value to the debate or Makoni North. He made tall promises ranging from assisting widows and orphans to infrastructural development, including tarring Chiendambuya-Mayo Road, but nothing was done.
"It is totally zero. After being AWOL for more than four and half years he reappeared recently giving a few people mari yechigayo nedoro," he said.
Mr Chris Barari said only Ms Rudo Boka, former President's son-in-law Mr Simba Chikore, Mr Ivan Craig, businessman Mr David Tekeshe, NGOs and Makoni RDC spearheaded development in the constituency. Mr Chikore reportedly sunk boreholes at nearly all community centres, school, clinics, and rehabilitated roads while Ms Boka helped farmers, constructed schools and drilled boreholes.
"This constituency is backward and neglected. The only memory of him we have is when he came to introduce himself after being elected MP in 2013, bragging and calling himself 'Cremora'. We thought he was a hard worker, but alias we wasted our vote, kana paakambonamawo gomba rimwe muroad hatina patakaona," said Mr Barari.
Mr Patrick Antonio, of Tsikada said the MP was now visible and buying some youths beer. "He is canvassing for support and buying youth beer, yet for all these years he has been sleeping on duty," he said.
Makoni North is a rural constituency with eight wards — Wards 5, 2, 35 and 1 on the western side of Mwarazi River and Wards 36, 4, 3 and 9 on the eastern. It shares boundaries with Nyanga South, Mutoko, Makoni Central, Headlands and Murehwa. Its roads are worn-out and impassible; schools and clinics are scattered and lack the basic and needs upgrading; rural electrification is moribund and water is scarce. The disadvantaged such as the sick, elderly and orphans are often taken care of by NGOs and a few wealthy individuals. However, Mr Edmore Madhume, of Ward 3 described the MP as workaholic, hence the nickname "Cremora".
"The MP is our Cremora, and he delivers on his promises. We did not have a clinic, and we now have Tsikada Clinic. We were backward in sporting, and we have sporting galas for youths. Makoni North is vast, and he is doing his best," said Mr Madhume.
Mrs Cecilia Nyamuranga praised Cde Muchenje for sinking boreholes and donating library books in Ward 5.
"Only last week, he assisted vulnerable families with a tonne of maize. He has acquitted himself very well, and we do not have problems with him. For sometime aive neurwere hwemudzimai wake uyo akazoshaya," she said.
Cde Muchenje rabidly defended, and rated himself at 80 percent. He said at times he sacrificed his money to develop the constituency. He said the only time he was truant was when his wife — Monalisa Maruta — was critically ill. She died in April 2017.
"I had to split time between my ailing wife and legislative demands. It was unfortunate things turned that way, and I lost her after four years of illness. I still sacrificed, but had to rush back to Harare immediately after constituency work. She required special attention and treatment always. My visibility has improved since her death last year, I go kumusha every weekend," he said.
He funded a water harvesting, piggery and fishery projects at Rongwe High (Ward 35), donated library books courtesy of the Swedish Embassy, worked with the Bokas to construct a block at Chiendambuya Primary and drilled a borehole at Chiendambuya Business Centre.
He forked $3 200 for electrification of Manhuwa Primary School (Ward 35) and at Mutiwegora School, where he also donated two laptops. At Hangaiwa School he initiated a poultry project of 200 birds and bought 30 bags of cement for construction of Hangaiwa Bridge. He intervened to spare the attachment of property for 36 farmers from Ward 4 by the Messenger of Court after being sued by Makoni RDC over non-payment of levies.
"I had to put my head on the block to save their property from being attached. After hiring a lawyer to represent them, I took a step further to engage the council for a payment plan," said Cde Muchenje.
He forked $4 220 for cement and labour towards construction of Nyahowe Clinic. He has a binding contract with Rusape General Hospital to foot bills for all maternal emergency cases at Tsikada Clinic. "The ambulance costs $200, and the people cannot afford that, so I pay all the expenses," said Cde Muchenje.
He forked $1 800 towards construction of a classroom block at St Paul Secondary School, in Ward 9 and supplied two tonnes of cement at Nyahawa, and is paying labour costs at Danha Secondary School.
Cde Muchenje blamed voters who prefer cash handouts to MPs' contributions in Parliament. "Politics is commercialised and some of the voters insist on money to help them solve personal problems such as burial, school fees and medical costs. That is why we end up doing charity work. My community is impoverished, I get directly involved at household level when need arises to fund funerals, food and school fees.
"I have assisted 40 funerals with food packages of $100 and coffins that cost $40 each. In some cases I go beyond the $100. I have also donated 150 pairs of shoes at Rongwe, 50 pairs at Nyahondo and 40 pairs at Masokosa. I have 11 families under my charity care and nine children under my scholarships," said Cde Muchenje.
He pushed the Parliamentary Portfolio Committee on Health to visit Weya Rural Hospital to improve the health of services.
"Weya Hospital is the referral hospital in Makoni North. We do not have an ambulance, and the committee visited and tabled their report in parliament in 2016.
The ministry is seized with the issue and unfortunately things stalled following the death of the Health and Child Care deputy minister Dr Aldrin Musiwa in 2017.  The Minister has also visited, and are working closely to address the challenges," he said.
He disputed assertions that he was not conversant with most of the issues debated in Parliament.
"I sit in two committees — Industry and Commerce and Small to Medium Enterprises and have made invaluable contribution at committee stages. Our Parliament is overwhelmed, and the Speaker of Parliament chooses one person to speak at a time. In have raised the issues of Makoni North roads and I am on record pushing Government to finish tarring of Chiendambuya-Mayo Road. I was instrumental in the promulgation of SI 64/ 2016.
"I think I am almost 80 percent. I did my best under very a difficult situation. I will make a thunderous come back, and will win the next election," he said.
The perception rating is only 5 out of 10.