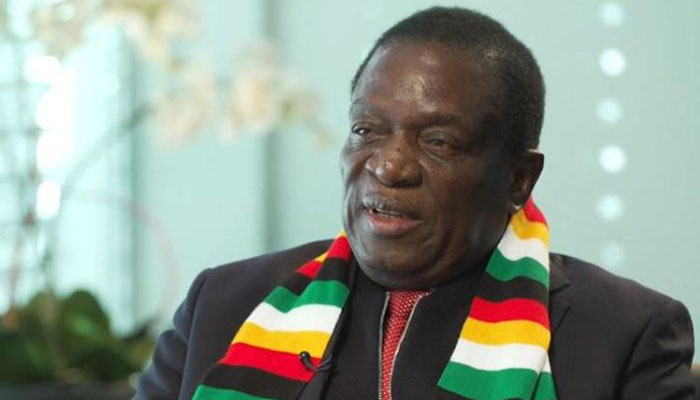 The ManicaPost
Kudzanai Gerede Business Correspondent
As President Emmerson Mnangagwa's first 100 days in office came to a close this week, optimism for the economy remains abound on account of improved global and regional perception as illustrated by a generally positive sentiment from the recent Davos meeting in which the President was able to convince world leaders of his commitment to stir the country back to safe waters.
The US department of State in Zimbabwe recently posted on twitter that more US companies are expected to trickle into the Zimbabwean market to invest in various sectors of the economy.
This succeeded the UK high commissioner for Africa' s visit into the country as a show of solidarity to mend sour relations that had characterized the two nations for close to two decades.
It was always going to be a Herculean task for any President inheriting a moribund economy that has endured years of global isolation, repulsive policies for investors under the old regime, a crippled industrial base and absence of a local currency, to note a few major challenges the new administration was seized with in its first hundred days.
To better understand Zimbabwe's unique economic matrix, experts agree the key to unlock these complexities need not require a blanket solution to quick-fix the economy, but a somewhat varied and cautious approach that rebalances skewed economic fundamentals at the core.
This entails cutting on Government spending to restrict fiscal deficits, rebuilding the Zimbabwe brand to attracting investment, strengthening institutional systems to bring back market confidence particularly in the banking sector, re-engage the international community to access credit lines and export markets for local business, restricting an unsustainable public debt and curtailing inflationary pressures on the economy among other factors.
Cognisant to these challenges, the new administration has hit major milestones within its first hundred days in office.
Freezing of posts in the civil service, slashing down of flamboyant allowances, staff rationalisation targeting retirement age of 65 years, voluntary retirement scheme and scrapping of duplication of roles within public sector, is already cutting on public costs which in the next two years will have trimmed Government employment costs to below 60 percent of total revenue, according to the Ministry of Finance and Economic Planning.
There have been massive investment interests taking place that are likely to improve employment figures and stimulate economic activity through downstream industries.
The recapitalisation of the steel giant, ZISCO now at an advanced stage is expected to see the Chinese investor; R and F inject $1 billion after Government took over the state-owned steel maker's $ 500 million debt to pave way for the investor.
The steel maker at its peak before the turn of the millennium had a massive employment base and a huge taker of goods and services from satellite industries across the country. This is not to mention its significance as a major exporter of steel.
This has been buoyed by the already penned down $ 400 million recapitalization deal for the country's sole rail-liner, the National Railways of Zimbabwe which comes as a boost for all industrial and commodity freight at a more competitive cost.
Last week, under the deal, NRZ received renovated locomotives, passenger coaches and wagons that would be used in the interim before latest coaches will be commissioned later this year pending upgrading of the railway lines and signal system.
More investment has been seen in the National Social Security Authority $ 20 million deal to resuscitate the Cold Storage Company as well as the recent plant opening of the global beverage giant, Pepsi in Harare recently.
"We are happy with the new economic order with regards to the ease of doing is business in Zimbabwe. We notice efficiency in the manner of Government responsiveness in processes we have engaged them in our Arcadia Lithium Project in Kwekwe," Prospect Resources executive director, Duncan Harry Greaves told delegates at the Mining Investment Conference in Harare this Tuesday.
Analysts have commended the positive sentiment coming from the investors since beginning of the year as crucial in bringing back market confidence in the economy.
One of the success stories in this new order, has been the measures taken to stabilise rising inflation that had been soaring since mid last year prior to President Mnangagwa's elevation into the country's highest office.
An Ad-hoc committee put in place in mid-January to inquire on wanton price increases saw inflation slow down, a move the consumer watch dog, Consumer Council of Zimbabwe commended Government for its intervention and subsequent return of normalcy in the pricing system.
However, the economy remains subdued by a plethora of legacy challenges that have gone on over the years unabated and there is need for more effort not just from Government alone but from private sector and civil society as well.
The liberalisation of some state owned entities and parastatals remain an ongoing process that will need sustainable and viable partnerships in order to resuscitate most of the ailing firms.
Antiquated machinery remains an albatross to local industry growth with most firms struggling to access capital for retooling. More so has been the foreign currency shortages that have rendered close to 30 percent of firms on the brink of collapse, according to the 2017 Confederation of Zimbabwe Industries (CZI) manufacturing sector.
Capacity utilisation fell to 45.1 percent in 2017 from 47.4 percent recorded prior year and despite an increase in total production output, local firms enjoyed improved market share but failed to invest in improved capacity utilization.
The parallel money market remains flourishing despite Government issuing a warning to clamp down on street money changers. Analysts have raised the red flag on setting of premiums on the bond notes against the US dollar citing the mismatch precipitates inflation.
With the tobacco selling season upon us and the other agriculture commodities closing in a month's time, coupled with the commendable output from the mining sector particularly in gold, diamond, chrome and platinum sub-sectors, there are high hopes for improved foreign currency generation this year although going forward the economy needs to be diversified and expand the export bracket.