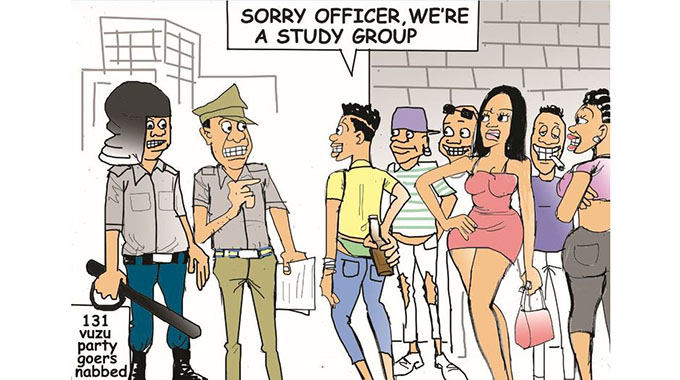 The ManicaPost
WHATEVER the word 'vuzu' means or does not mean, that is not the question. What we know is who the advocates are and what they do. And it is terrible and horrible put together.
Who does it? The answer is students in secondary schools and high schools. What do they do? The answer is 'sexual jamboree.' The conclusion is it is bad for education and defeats the effort and purpose everybody proudly talks about.
Several newspapers in the country ran the story of 131 pupils who chose to go schizophrenic the weekend before schools opened in Bulawayo. The police warned them before the sex exhibitions, the students ignored them; and when hell broke loose, the police had no option but to do their job.
The law enforcing agents arrested 131 raucous youths in Bulawayo in a clean-up blitz that included confiscating alcohol, mbanje and sex enhancing pills.
Vuzu parties are increasingly popular exhibitions of teenagers' wild behaviour in which they engage in risky unprotected group sex.
Police in Bulawayo raised fear, distress and disquiet that there is an emergent trend of students causing riotous sexual merriment involving substance abuse and alcohol.
Bulawayo acting police spokesperson Inspector Abednico Ncube revealed that Police on Saturday lived up to their warning and arrested the unruly students that were 'enjoying' their last holiday weekend where alcohol and drugs were abused.
The acrimonious vuzu culture, we are aware, is not a Bulawayo-alone trend. Students all over the country in major urban centres like Gweru, Harare and Mutare engage in this despicable behaviour. The Bulawayo police were only the first to mop the youths up but it is an open secret that students all over the country in urban centres celebrate moral decay in the manner that happened in Mahatshula surburb in Bulawayo.
It does not make sense that with the effort government and parents put in the education of young Zimbabweans under very difficult economic circumstances, the students stand at the crossroads and turn left to face useless joy and death instead of the right where there is hope and life.
The writing on the wall calls for every level-headed Zimbabwean to not only fire-fight this demonic behaviour with police arrests of the bodies but to win the hearts and minds of this 'dead' generation into girls and boys of substance.
This is Satanism at its worst and everybody must declare war against these vuzus or whatever they are called in other city centres. What happened in Sodom and Gomorrah when God destroyed the two cities for worse-than-animal behaviour was better than what happened in Bulawayo and does happen in other cities in Zimbabwe. When youths behave worse than animals, especially groups that go to school … youths that should know better and behave better, a nation's future is suddenly in serious doubt.
These children, some of them as young as thirteen and fourteen, are the nation's window of hope…fathers and mothers of tomorrow…future leaders in every aspect of life. If the country does not take this Tsunami of behaviour for what it is … a Tsu.na.mi, and do something about it now, not tomorrow, one day soon we shall all regret for being too naive or too late to act. There are levels of promiscuity or moral decay that can be watched from a distance and hope will grow out of any children. Vuzus are worse and more dangerous than promiscuity. They are worse than prostitution. Prostitutes today still respect privacy even in their heinous sinning. The vuzu students are simply a manifestation of a national behavioural Ebola that will soon annihilate these youths and their futures. Even the gains of the armed struggle will be reversed when the youths, the posterity that were sought to be freed and promised a prosperous Zimbabwe lose their heads and become vuzu addicts.
It is disturbing to think students in the past participated in national building in various ways including joining the Chimurenga project, but today's youths engage in so-called vuzus. Where did we go wrong as Zimbabweans? There must be some terrible accident of parenting or legislative control that these vuzus are manifesting. There must be something terribly wrong with the Zimbabwean cultural value chains that boggle even the gods.
We can blame social media, internet, radio and television … and yes these have a lot to do with it, but there are no vusus anywhere else on Earth except in Zimbabwe.  This level of animal behaviour cannot be understood even by the animals themselves.
This is clearly not going to be the last time we talk about moral decadence and celebrations of moral decay amongst students. For now we need the best brains and prayers to mitigate this behavioural scourge that has undermined and prejudiced our efforts to offer an education that changes lives for the better.