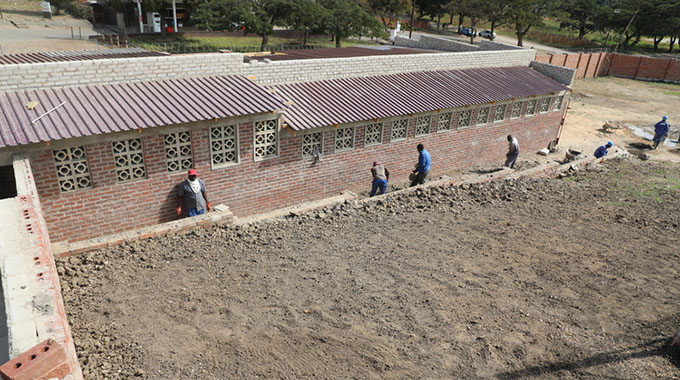 The ManicaPost
IF the bad news has been that Sakubva Stadium had been neglected over the years and was subsequently banned from hosting top-flight football matches since 2017, the good news is that the match venue has been spruced up and chances are very high that in the post Covid-19 era, the stadium will be able to get the nod to play host to domestic Premiership football games.
Love or hate it, football is the most loved sport of our generation and perhaps many more to come.
In fact, it is more than just a sport!
It is entertainment and business.
It is a thriving multi-billion dollar industry that is providing employment to millions across the globe.
For many on this continent, it is a source of livelihood that provides a convenient route in escaping poverty.
To ensure that sports lovers enjoy the most beautiful game near their homes, the custodians of Sakubva Stadium — Mutare City Council — have done all they can, with limited resources at their disposal, to give a major facelift to the facility.
Their effort is commendable.
Much of the renovation work is now complete and members of the Parliamentary Portfolio Committee on Sport who visited the venue on Monday were impressed by what they saw at Sakubva Stadium.
This is exactly what football fans and all proponents of development have been clamouring for all these years.
After all, for a stadium in the country's fourth largest city to fail to host top-flight league matches owing to derelict conditions is a source of ridicule and defies logic.
What made the Sakubva Stadium story much more difficult to understand was that a smaller town in the same province — Rusape — had earned the right to host Premiership matches at Vengere Stadium at a time when Sakubva was crying for a facelift.
News that prominent Mutare food manufacturing and packaging giant, Mega Market, has also partnered Mutare City Council in renovating the match venue is sweet music to our ears.
We urge more corporate citizens to come on board and help breathe life into our dying sports facilities across the province and the country at large.
As we marvel at the work being done at Sakubva Stadium, we are quick to remind the custodians of the stadium to ensure that they do not miss their target after coming so long.
The remaining areas now need to be completed without delay.
Once renovations are complete, the stadium should be used for what it was constructed and refurbished for — sporting activities.
The culture of hosting musical shows and church gatherings on the same field that is meant for sporting activities has been our greatest undoing for years as it destroys the turf.
In the same breadth, we also need to put more effort in championing the construction of a new stadium that suits world class standards as espoused by the Rebuild Sakubva initiative.
It is not a secret that some of the stadia that we have in this country can no longer meet world class standards, no matter how much we invest in renovating them.
We just need to build new stadia.
The Eastern Highlands provide world class camping sites for international teams but that dream cannot be realised without the requisite world class sports venues.