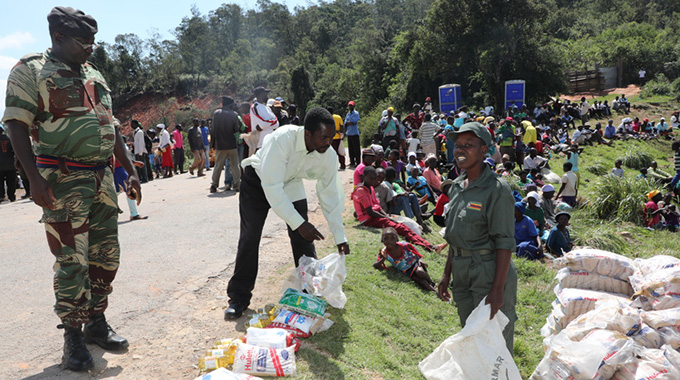 The ManicaPost
WHEN Cyclone Idai struck early this year and ravaged communities in Chimanimani and Chipinge districts in the wake of heavy rains and strong winds, the country was united in helping out the affected families.
Hundreds were killed in the cyclone while many were left homeless without food and clothing.
Their means of livelihood was destroyed and they looked up to humanity for aid.
Despite the prevailing economic conditions, Zimbabweans quickly and overwhelmingly responded to the cause to help the victims of the cyclone. Clothes, blankets, food stuffs, sanitary items and a whole lot of everyday utilities were donated.
Neighbouring countries and, indeed, the international community followed suit and came in to help in a big way.
At the end of the day, humanity had managed to source essentials that ensured that the Chimanimani and Chipinge communities live decent lives on their way to recovery.
However, it is saddening to note some of the items that are warehoused prior to distribution among the deserving communities are rotting.
Flimsy excuses of shortages of fuel to transport the items have been cited by those responsible to preside over the relief aid.
What does this mean to all the people who sacrificed the little they had and extended a giving hand to ensure that families affected by the floods have something to put on t heir tables?
What message are we sending to our international partners who used immense resources to ensure that the relief aid gets to Chimanimani and Chipinge?
During his many visits to Chimanimani and Chipinge, President Mnangagwa urged the responsible authorities to speedily and timeously distribute the relief aid to the deserving victims.
He assured them that no one would die of hunger because the donated items were enough to feed and clothe everyone.
The obtaining situation on the ground is working against the assurances that the President made to the victims from the two districts.
Roads and bridges were quickly repaired to ensure that food relief reaches all the corners of the affected areas but all that effort is being put to waste because of some administrators that are sleeping on duty.
How on earth can responsible people sit and watch a whole consignment of 30 tonnes mealie meal rot in a warehouse?
Reports suggest that some of the food stuffs have either decayed or expired while locked up at Nyahode District Union Warehouse in Chimanimani East.
The items that have gone bad include 1850kg of corn soya blend, 1150kg of plain flour, 500×6 packets sugar beans and 1 000kg of Maheu Instant.
Families are awaiting these things which are being left to rot in a warehouse that is located in the vicinity.
Heads should roll. This is the type of incompetence or rather the complete neglect of one's duties that result in those responsible being shown the red card.
An inquiry into this mess must be conducted immediately because the people who donated those items are equally eager to get answers and know what action is being taken.
It's a disappointing situation that taints an otherwise good and humane aid relief intervention that was meant to save lives.