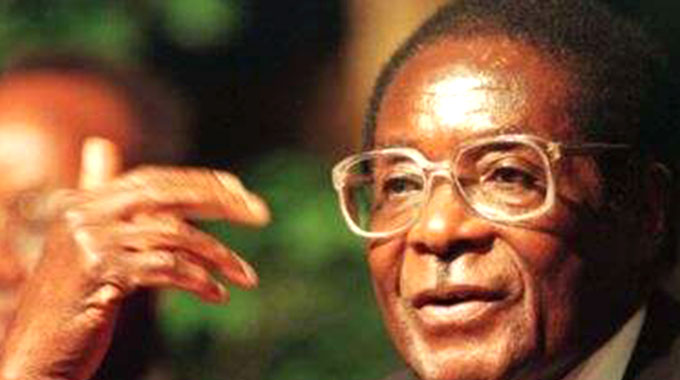 The ManicaPost
Zimbabwe and Africa as a whole is mourning the sad passing on of the founding father of our nation and former President of our country, Cde Robert Gabriel Mugabe, on September 6, 2019, in Singapore.
Heroes like Cde Mugabe are extraordinary and rare to find. They deserve  to be celebrated in life and in death.
Our former President was an icon, and his death has grabbed global attention, largely because of his work's impact at home, in Africa and the rest of the world.
The huge contributions that the late national hero made to Zimbabwe and Africa in general go beyond the ordinary.
In Cde Mugabe, the country and indeed Africa as a whole has lost a true nationalist, a selfless revolutionary leader and an outstanding Pan Africanist,
In life, Cde Mugabe was a giant, a man whose commanding voice, intellect and courage identified with many, especially in the developing world around the globe.
Zimbabwe's first leader after independence was indeed a gift to us as a nation, and the best way to honour him is to exemplify the unity and love that he preached throughout his life. Indeed, Cde Mugabe has left us a legacy of commitment to national peace and unity, which he stood for mainly through national reconciliation at independence in 1980 and the December 22 Unity Accord between Zanu and Zapu.
Our former President worked hard towards the upliftment of the livelihood of the generality of Zimbabweans as a whole through national development policies in the areas of education, health, sports,  housing as well as agriculture through the land reform programme.
Many Zimbabweans will no doubt fondly remember him for his outspoken and unshaken stance against foreign cultures of homosexuality which sought to destroy our strong family system, Christian values and the nation's moral fabric.
However, much as Cde Mugabe was a true son of our soil at heart and in spirit, he too was a revered African icon, whose dedication and commitment to the principles of Pan Africanism was absolute. He was Africa's outstanding and fearless global face of resistance to American and European dominion.
Cde Mugabe was given a befitting welcome at the Robert Gabriel Mugabe International Airport on Thursday as people came out in their thousands to receive his remains from Singapore. We expect an even bigger send off tomorrow (Saturday) and during his burial on Sunday when we pay our last respects to our departed visionary leader.
National hero status is the highest honour that can be conferred on an individual for selfless and outstanding contribution to the development of our motherland. For former President Mugabe, it was just a formality to bestow the heroes status on him, given the illustrious path he followed since his early years as a youth, as Zanu PF leader and First Secretary during the liberation struggle in Mozambique and until the days he became the Prime Minister of independent Zimbabwe in 1980.
Cde Mugabe's legacy must be carried on and emulated by all Zimbabweans and his exploits should be recorded down to inspire young Zimbabweans.
The nation takes solace in that his death revealed he was indeed a true revolutionary as his death occurred in September, a month after which Zimbabweans remembered and celebrated the works of fallen heroes and heroines of the armed struggle. As we mourn Cde Mugabe, we should continue to cherish the great works of this great man, and be inspired by it.