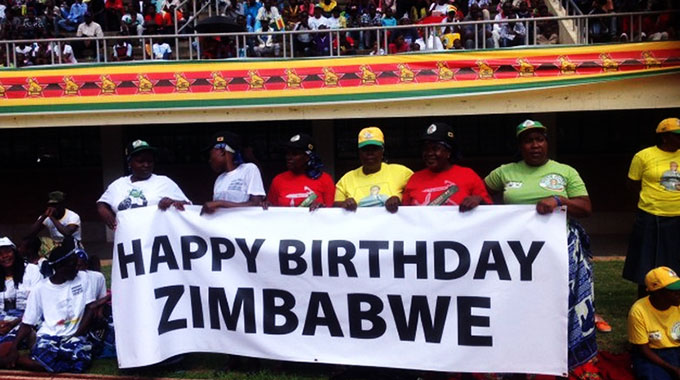 The ManicaPost
"History does not die," the wise say.
Zimbabwe's independence is its history. It will never die. Both the friends and enemies of Zimbabwe have the right and freedom to see this beautiful country the way they want. It is their history.
While some see a country full of untapped wealth and potential to become a Singapore of Africa, others see a nation cursed. While many of us see a Canaan of milk and honey in reality or in potential, others see an Egypt with endless pain and suffering. These critics cannot all be right.
But whatever is correct or wrong; whoever is telling the truth reserved for Sundays alone or lying like a cheap watch, one thing is certain: History does not die. Zimbabwe came out of a protracted war which left many maimed or dead. It was an ugly war that brought beautiful results. The roots of this war were bitter but the fruits very sweet. Certainly sweet enough to allow everyone to take intrinsic pride and honour in celebrating being Zimbabwean.
Essentially we have had two dispensations in the 39 years of independence; one from April 1980 to November 2017 led or ruled by Robert Mugabe. The argument of which adjective is more appropriate 'led' or 'ruled' is not the import of this commentary. Another leader, Cde Mnangagwa spanning from November 2017 to-date boasts a second republic that is driven by reform and change for the better in all visible and significant aspects of life. So yes, there are the first and second Zimbabwe to talk about, both with their challenges, successes. Such is politics and the journey to ultimate socio-political and economic joy is never complete. As Mandela observed, "After climbing a great hill, one only finds that there are many more to climb." Perfect observation in politics!
The story of where Zimbabwe came from will never die no matter how anyone looks at it or listens to it. We all get comfort from the realisation that wise people do not fight over perceptions, for they will always differ. One sees an M like a W depending on where one is standing. Some see an E, others a 3. While everyone sees a figure or letter, depending on where they are standing. But that does not change history. Once it is written and it is true, it never dies or expires.
Beyond the celebration and excitement, Independence is time to reflect. It is time to reflect…to think deeply, not just float in empty boisterous merriment. It is time to count our political gains, and these are many: more schools, colleges and universities in the country; freedom of worship and association, the right to determine our own destinies as Zimbabweans in all facets of existence- social, economic and cultural; the right to our own land … to till it and work it to earn a living; the right to the wealth underneath our feet and many other rights and privileges that are pillars of self determination.
Of course there is a lot more unfinished business and yet-to-come freedoms and rights, but certainly the gains that independence brought are many enough to warrant celebrating being Zimbabwean.
Political hypocrites or blind Zimbabweans only count their blessings. Honest and loyal Zimbabweans, and that is who we are, calmly acknowledge the shortcomings of our endeavours and the disappointments of our limitations…even the naivety of our dreams. We do not foolishly pretend Canaan is here when we know there are many River Jordans to cross and even more Red Seas to cross.
Independence is a journey not an arrival. It is a process of the dawning of new freedoms and rights, not an event. If it were an event that came on 18 April 1980 and died, why would we still be celebrating it today? Independence is history…and history does not expire; it does not end, and does not die.
The greatest failure of free Zimbabweans, and that means all of us, has been the failure to come together as one Zimbabwe and one family despite our different political persuasions and beliefs. We have continued to fall into the tragic political naivety of intolerance and divisionism… brewing more and more differences and disunity amongst us. We have failed to come up with attitudes and genuine intentions to come towards each other. Instead we have strengthened reasons to be apart than to be together.  Our Independence celebrations every year, including 2019, must proffer more love, tolerance and unity than quarrels and noises that do not benefit the nation.
For now, let us celebrate our independence in deep thought and rise above idle exuberance. We are responsible Zimbabweans. Let us drive safely on the roads and remember to respect one another as we express our right to be happy.
May our joy not make us forget the people of Chimanimani and Chipinge whose own joy about this year's independence and Easter Holiday is terribly limited by the havoc left behind by tropical Cyclone Idai.