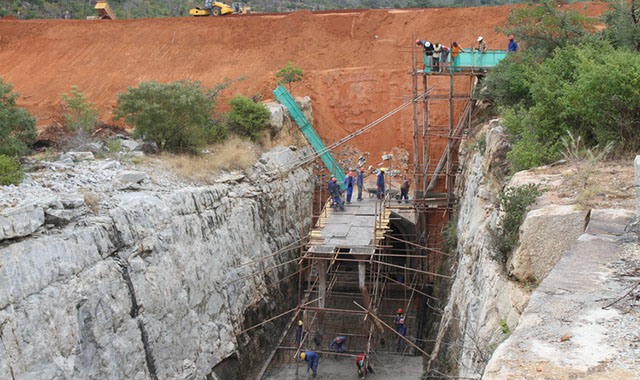 The ManicaPost
PRESIDENT Mnangagwa's administration must be hailed for its prioritisation and desire to complete Marowanyati Dam in Buhera.
The dam project had stalled for the past 10 years despite its potential to positively impact rural development.
It is Buhera's flagship of hope as its intended purpose is to provide domestic, industrial water supply to Murambinda and irrigation of 3 650ha of agricultural land.
The contract was awarded to China Jiangxi International Corporation (CJIC) at a price of Z$2,096,519,660.00 in August 2002 and construction commenced in November 2003 amid pomp and fun-fare. It was expected to be complete in 2009, but it stalled in November 2007 due to lack of funding.
The villagers, who relied on donor-aid, hail the new dispensation for its vision to address perennial water shortage in the district by mobilising adequate financial resources to complete the project by the end of the year.
It was allocated $8.2 million and Government has religiously paid more than $19,5m to the CJIC and assured the contractor that more funds will be availed.
Construction is in full throttle, with the project now at 47 percent.
At least $33 million is required.
Improved water availability will enable the community to establish gardens to address food security and nutritional needs; embark on aquaculture and irrigation schemes; ensure adequate livestock drinking water supplies as well as wash down supply for industries, among others chief benefits.
Buhera is a drought prone district, and the gigantic water body will store water when it is more plentiful in the wet season for use during the dry season or droughts.
Only a small proportion of dam water will come from direct rainfall, therefore harnessing runoff from the perennial Mwerihari River catchment is necessary.
The scarcity of water resources in Buhera for human, cattle, and farming has been severely accelerated by negative climate change.
This has brought about economic problems for rural society, as some fields are continuously abandoned as they cannot be cultivated without irrigation.
Demand for fresh water is very high in Buhera, making the engineering of the dam a vital part of the civilisation.
Certainly, Marovanyati will be a vital cog in the development Buhera — an entirely communal district — whose quest for growth is stampeded by a deadly blend of erratic rains and brutal dry spell.
The impact of investing in this gigantic water reservoir and its potential to ameliorate development and overhauling the agricultural complexion of the district is inescapable.
The future wealth of Buhera hinges on Marovanyati Dam and new dispensation must be applauded for its futuristic vision.
Demand for water is a basic human right, and we appreciate Government's sensitivity in this regard.
Irrigation projects spanning 3 600 hectares are earmarked on its completion. This will create employment, improve food and nutritional security and help prevent the migration of rural people to the cities.
Expansion of Murambinda into a town entails high population growth and a corresponding demand of water to equalise basic civic services — like tap water, sanitation, industrial use and food production.
The link between poverty and deficient water resources is obvious.
Buhera is one district with folks that survive on less than $1,25 per day and this coincides with the number of those without access to multi-purpose water resources.
We celebrate the coming to fruition of the project.