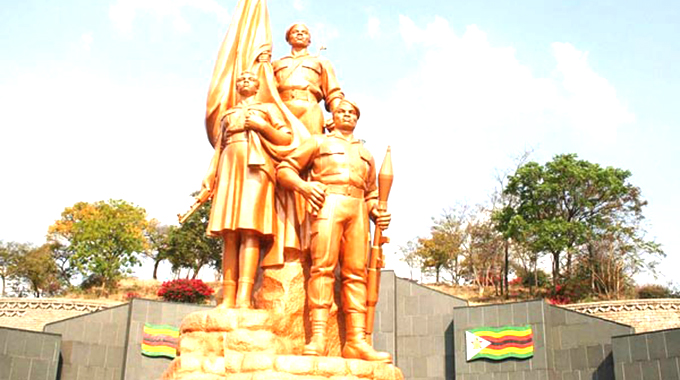 The ManicaPost
IT is a ceremonial tradition for Zimbabweans to gather around various sacred shrines across the breadth and width of the country in August to remember and pay tribute to the living and fallen heroes of our liberation struggle, whose blood, sacrifices and untold suffering, brought us our most valued freedom and independence in 1980. Our Heroes Day therefore is not just a holiday but means a lot to us.
On Monday August 12, we in Manicaland will congregate in Sakubva Stadium to commemorate with much national pride, honour, courage and bravery of our liberation heroes, who gave their all to fight, and defeat, the unjust settler Rhodesian colonial regime.
As we remember many lives lost, the maimed and scarred lives of survivors of the protracted armed struggle, Zimbabweans have cause to celebrate their sovereign independence and freedom, which enabled us to reclaim our cherished land and national sovereignty thus promoting and enabling the empowerment of people in the occupation and ownership of natural resources.
As Zimbabweans, we reaffirm the values that guided our liberation struggle such as the selflessness, willingness and commitment to paying the supreme sacrifice for the good of the people; the courage and resilience and that enduring spirit to suffer hardships for one's country.
Heroes Day celebrations come as we mark the first anniversary of the 31st July 2018 harmonised elections, successfully held under the new dispensation. We rejoice that the resounding victory of the revolutionary party Zanu-PF put paid, once and for all, to the manoeuvrings of illegal regime change that were being pursued by local misguided political charlatans.
We urge the nation to forever cherish the culture of peace that the country has promoted over the years. Lasting peace is key not only for social cohesion of the country, but also in ensuring sustainable national development.
Zimbabwe also celebrates National Defence Forces Day on August 13. This is the occasion we pay tribute to our defence, police, prisons and security forces for their unwavering and dedicated service to guaranteeing and maintaining peace and stability. The country depends on its security and defence forces for the maintenance of peace as a free and sovereign country. As a country, we dare not drop our guard.
President Mnangagwa's humble assumption of the chairmanship of  SADC's Organ on Peace and Security at the forthcoming SADC meeting to be held in Tanzania in less than a week, means that our President will be guiding the region in as far as politics, peace and security issues are concerned.
We believe now is time to turn all our energy towards promoting investment, creating more employment opportunities, which will ultimately improve the standard of living of the people in efforts to transform Zimbabwe and achieve the vision of a middle income status by 2030.
We are all aware the just ended farming season was a poor one as the country experienced a severe drought as a result of the low rainfall received. Our livestock in most parts of the country has inadequate grazing and drought mitigation programmes have become necessary.
We wish Zimbabweans successful Heroes Day celebrations, and memorable and safe National Heroes and Defence Forces holidays. In the same vein, we urge all road users, especially all drivers to always exercise maximum caution.