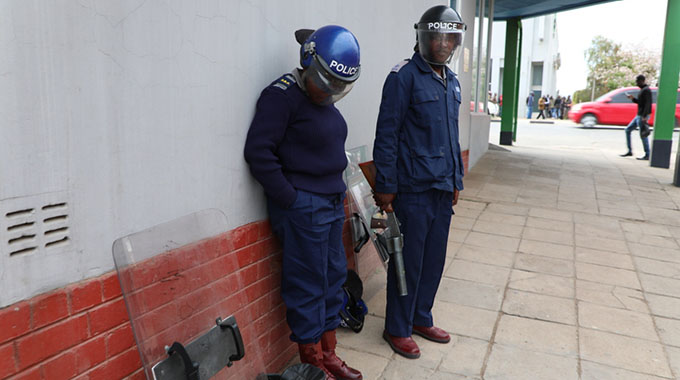 The ManicaPost
Although the Constitution of Zimbabwe clearly provides for the right of citizens to take part in demonstrations, it is important to underline the fact that this right is not absolute.
This right must indeed be exercised legally and with realisation of the rights of other citizens. Moreover, such a right does not hold back the Government from exercising its obligation to guarantee public order and security.
We salute the people of Mutare for ignoring Thursday's calls by the MDC-Alliance to demonstrate against economic hardships.
While the MDC-Alliance has a right to protest and demonstrate, the rights of other citizens who have a compelling and reasonable fear that they will suffer and experience damage similar to that which occurred in the January 14-16 violent protests, should also be respected.
It must be noted that Zimbabwe is a democratic and peace loving country, with citizens who abide by the law. However, as much as there is democracy in the country, MDC-Alliance leaders have a penchant  of abusing constitutional rights through violent protests.
They have no mandate whatsoever to unseat a constitutionally elected President.
Previous demonstrations organised by the MDC-Alliance bear testimony to the fact that the Western sponsored party cannot be separated from violence and costly destruction of  property.
It is against this that the High Court in Harare and Bulawayo saw it sensible to block demonstrations planned for August 16 and 19 respectively. The other planned demonstrations in Gweru on Wednesday, and Mutare on Thursday also failed dismally. People simply shunned them.
The nation should take a leaf from the commendable unity shown by Bulawayo residents, business community and churches, who rejected the demonstrations. Bulawayo High Court judge, Justice Thompson Mabhikwa, ruled that MDC-Alliance could not go ahead with the demonstrations after the Confederation of Zimbabwe Retailers' Association, the Bulawayo United Residents' Association (BURA), the Apostolic Christian Council of Zimbabwe (ACCZ) and the Grain Millers' Association of Zimbabwe (GMAZ) approached the High Court on an urgent basis seeking an order prohibiting the opposition party from carrying out the partake demonstrations in the city.
It must be noted that MDC-Alliance has persistently failed to be a progressive party as it only take part in regressive behaviour that is usually violent and tragic in nature.
We all know that at the moment the economy is going through challenges. It is a painful but necessary reform process. Most important is it's a passing phase.
What we have all seen is an opposition party that has decided to politicise this situation, blaming Government and its leadership for failing to redress the economic challenges. The clueless opposition has been trying hard to influence public emotion to aid their selfish political agenda of regime change.
At this juncture, MDC-Alliance supporters must demand their leader to sober up, be mature and practice mature politics, where economic transformation comes first.
It is common knowledge that the negative effects of demonstrations are that the nation risks losing potential investors. And citizens have a duty to protect the image of their nation in order to attract investors.
The MDC-Alliance should be reminded that demonstrations are not a solution to solving any grievance.
What is needed is to find the best ways and means of moving forward as a nation. Zimbabweans are very much aware that economic problems are a phase that is temporary and will pass, eventually.
Government needs support from individuals, the private and the public sector to be united and to proffer tangible solutions that will move the country forward and resuscitate the economy. It is therefore, everyone's responsibility to contribute towards economic revival. It is encouraging to know however, that most people are aware of the efforts that Government is making in an attempt to normalise the economic status.
It is also positive to note that some opposition supporters now realise that MDC-Alliance is taking them for a ride and using them in trying to fulfil personal agendas.