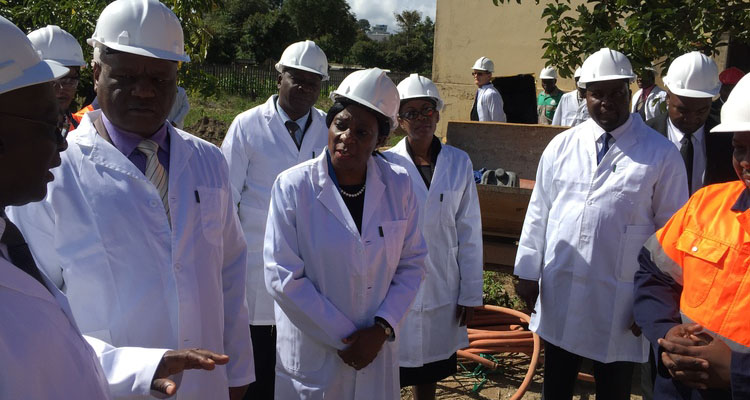 The ManicaPost
By October this year Mutare will have a permanent High Court that will serve the province.
This is sweet news to members of the public and stakeholders in the legal fraternity who had to endure costs related with travelling to Harare to seek justice.
In last 122 years, the High Court in Mutare will be the second building for the upper court to be constructed in the country after the Masvingo project.
Incoming Chief Justice Luke Malaba toured the new building which is under construction on Tuesday and he got a deep understanding of the structural issues obtaining.
Apart from getting first hand information on progress done to date, the Chief Justice had an opportunity to speak frankly with the players in the justice delivery system and hear their concerns.
This was a rare opportunity for players in the industry to meet the head of the justice system in the country and do one-on-one with him.
As soon as he finished touring the construction site. Chief Justice Malaba entertained stakeholders in the legal fraternity for frank talk at the Mutare Magistrates' Courts.
The discussions were an eye-opener and great leap forward in terms of ensuring the efficient delivery of justice to members of the public.
Such frank talk is necessary for it forms the very platform for efficient and effective work.
We are glad that the Chief Justice reminded those in the legal profession to denounce corruption and uphold prescribed ethical standards.
The same sentiments were echoed by the secretary for the Judicial Service Commission, Justice Rita Makarau, who spoke of a zero tolerance against corruption.
We agree with the Officer Commanding Prisons and Correctional Services in Manicaland Senior Assistant Commissioner Didymus Chimvura who pleaded with the Chief Justice for upgraded prison facilities to take care of dangerous criminals who will be on trail at the new High Court.
We sympathise with him on the need to upgrade facilities at lower courts in Murambinda and Mutasa where his department does not have proper shelter to house prisoners on trial.
Refreshingly, the Law Society of Zimbabwe hit the nail on the head by advocating for the establishment of a Labour Court in the city. This will greatly help workers who are made to appear in Harare to fight their cases.
All these concerns have a common goal of ensuring that justice is delivered well.
Justice delayed in an injustice.
We applaud the new Chief Justice for following up on the Mutare High Court project as members of the public are eager to witness the commissioning of the upper court.
Some projects die in their infancy but the zeal that has been shown by the JSC in ensuring that the building is constructed within the agreed time framework is encouraging and promising.
Situated near the Civic Centre, the new High Court building will definitely change the outlook of the city.
Stakeholders must buy in and ensure that justice is delivered efficiently.