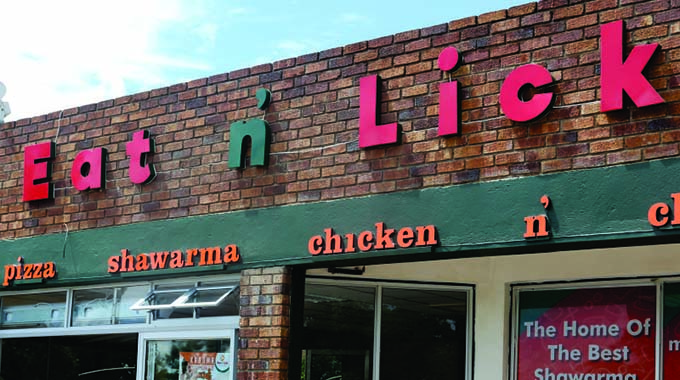 The ManicaPost
Lovemore Kadzura Rusape Correspondent
FAST foods outlet Eat and Lick, which took the market by storm since its grand entrance in the cut throat industry is not sitting on its laurels as it to continue to open more branches and spruce up existing ones. The popular eatery has upgraded its Rusape branch into a world class facility in a move that has been fully welcomed by its loyal customers.
The revamped Rusape shop was opened at a glittering function on Tuesday as customers jostled to get a feel of the upgraded branch.
New and modern equipment, chairs and new corporate colours have been placed to transform the eatery into a brand new entity. To celebrate the new-look branch, Eat and Lick is offering discounted popular meals such as chicken and chips, pizza, confectionery and shawarma.
Eat and Lick managing director Mrs Tsitsi Musabayana said her trendsetting organisation was on a drive to spruce up all their 12 branches dotted around the country to maintain their pole position on the market by serving clients in an ideal environment.
"We opened the Rusape branch in 2014 and we should be at the forefront, offering the best. We were warmly embraced by the people of Rusape and we feel humbled. As a company that is sensitive to standards we took it upon ourselves to freshen up this branch. We have created a perfect environment for our customers to enjoy sumptuous meals in a relaxed environment.  The new-look shop is aesthetic and world class.
"We repainted the building, changed some equipment and up touch-ups inside the store. Our clients have embraced the changes and they are also enjoying the promotions we are offering on our products for the next ten days. The feedback we are getting from clients is so amazing. Our staff also went through intensive training so that they serve clients professionally.
"People must visit our branch and experience our great meals and services. Eat and Lick serves both individuals and cooperate clients who buy in large quantities. Our confectionery side leads the pack because we have an in store bakery so our products are always fresh from the oven," said Mrs Musabayana.