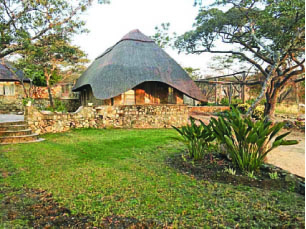 The ManicaPost
Liberty Dube
Tourism Correspondent
DRIVING to Nyanga from either Rusape or Mutare is no doubt refreshing.
The thick forests on the steep mountains are a marvel to watch.
In-between the green mountainous environs are two stone-walled structures — Shamala and Mount View — nestled in the thickets of Nyanga Mountains.
These natural stone works are breath-taking and help in capturing the Dzimbahwe (house of stones) story. Both structures have been awarded a three-star luxury rating by the Zimbabwe Tourism Authority.
Their location is encapsulated by the tall and dense pine and eucalyptus forestry.
A strip of these exotic and indigenous trees get down to the Sanyatwe River, which separates the two villas and creates a perfect habitat for various unique bird species.
This also makes the site perfect for bird watching.
The Shamala Villa was constructed with enchanting stonework.
It has a warm view, even when looking through camera lenses.
Shamala is blessed with majestic views of the rustic surroundings in an elegant way, which gives it a flawless environment for both events and conferences.
Just like the Matendera and the Great Zimbabwe Monuments, the two natural stone structures require consistent maintenance and marketing in order to attract tourists to the site.
Tourism expert, Mr Lloyd Makonya said there is need for Government to continue assisting in maintaining the aesthetic value of such structures.
"Stone craft infrastructures help preserve the Zimbabwean cultural heritage through architecture. From centuries ago we have had super stone-walled structures such as the Great Zimbabwe, Khami and Matendera national monuments. These stone infrastructures help tell the Zimbabwean story and form the basis of our cultural heritage.
"The name Zimbabwe literally means 'a giant house of stones' which further buttresses the importance of stones in Zimbabwe's cultural heritage.
"Government should continue to help in maintaining the aesthetic value of such structures and incentivise people to construct similar structures to preserve our cultural heritage," he said.
Togarepi Villas and forests caretaker, Blessing Gondokondo said: "We have our own version of natural stone-walled structures which attract both local and international tourists to this place.
"Visitors here are guaranteed of a feel of exotic and indigenous trees, birds, nature walks and mountain climbing, which is part of the unique Eastern Highlands stone craft paradise."