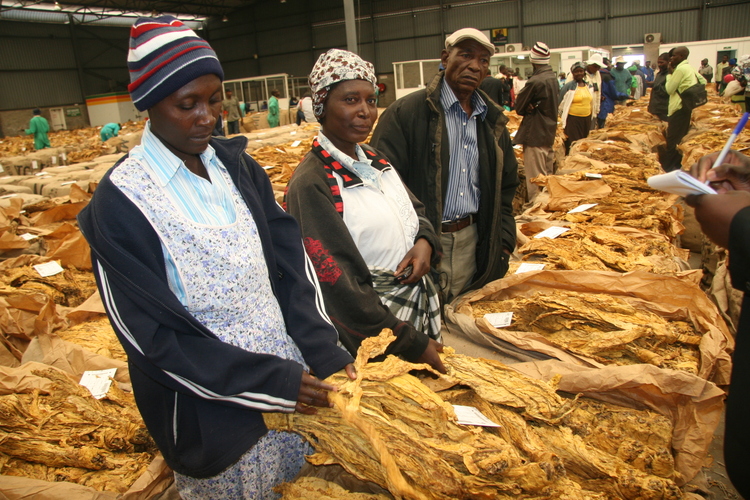 The ManicaPost
Gabrielle Gede and Emmah Chinyamutangira Post Correspondents
TOBACCO farmers in Manicaland have been dealt a blow which will leave them accruing huge losses as the quality of their crop was adversely compromised due to the intense mid-season drought.
Tobacco productivity in the province is at high risk due to limited and unreliable rainfall.
The province received poor rains and intense dry conditions that made the tobacco season unbearable and quality of the leaf poor. Most areas have been characterised by limited and unreliable rainfall which was concentrated during a short period with the following weeks tending to be relatively or absolutely dry.
Besides being water deficient, Manicaland were unusually characterised by exceptionally high summer temperatures and low humidity.
These negative factors compromised tobacco productivity, whose vibrancy and quality hinges on twin strengths of rainfall intensity and frequency.
Manicaland planted between 15 000 and 23 000ha, and the bulky of the dry land crop is in danger.
The impact is that inferior or lower grades leaf weakens marketability.
Only upper good quality leaf grades are in high demand and attract higher prices. Tobacco and horticulture specialist with Agritex Mr Douglas Nzarayebani said most tobacco farmers have started reaping and all was pointing to a compromised yield.
"This 2018/19 tobacco crop's quality has been adversely affected by the dry spell. It is a complex situation because the dry spell negatively impacted on the crop resulting in it failing to fully blossom, which made farmers into believing it was ready for harvest.
"Most tobacco farmers have started harvesting and others are already done with the first reaping and grading," Mr Nzarayebani said.
Mr Nzarayebani said preparations for the delivery of tobacco to the auction floors for the opening of this year's marketing season were already in progress.
"Some pockets of Makoni and Mutasa districts have better tobacco quality, but other areas in the same districts, Mutare and Buhera had most of their crop adversely affected by inadequate rains, which means that the leaf would obtain less weight and poor prices at the auction floors," he added.
Rural communities, he said, had been economically transformed, driven by good profits they received previous years and those that they are ready to enjoy after selling their crop.
While tobacco has earned a strategic position in the economy because of its contribution to the Gross Domestic Product and foreign currency earnings, this marketing season tobacco growers are expected to be paid 20 percent of their produce in foreign currency, while the Government will retain the remainder to help meet imports of essential commodities.
Mr Nzarayebani urged farmers to take a day longer when curing the gold leaf to ensure at least a better quality of the leaf.