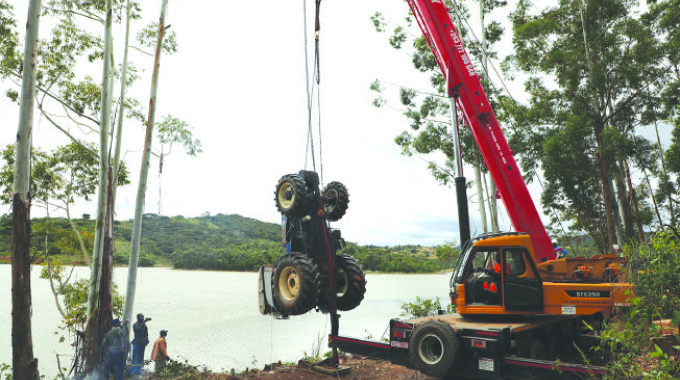 The ManicaPost
Liberty Dube
Post Correspondent
IN a suspected case of ritual murder, the body of a 57-year-old tractor driver who had been missing for five days was found with a deep cut on the head.
His eyes were also missing. 
The remains of Grey Chirimo, who was employed by Allied Timbers, were recovered in Nyangani Dam after he had disappeared with the tractor he was driving when he was last seen.
The tractor was found by members of the police sub-aqua unit two days before his body was discovered in Nyangani Dam. Allied Timbers had to hire a crane to retrieve the tractor from the dam. 
Police confirmed the gory murder and said investigations were in progress. 
It is alleged that Chirimo knocked off duty at an Allied Timbers Estate in Mutasa on April 14 and went to the workshop to park the tractor. 
"The following day, Justin William Matanga saw a trailer which was stuck on a tree. There were tractor tyre marks leading to Nyangani Dam. 
"A spirited search by the sub-aqua unit failed to recover Chirimo's body. It was later found floating in Nyangani Dam on April 21. There was a deep cut on his head, with his eyes missing," said Manicaland provincial police spokesperson, Inspector Luxson Chananda.  
In a separate incident, a dispute over pieces of gold ended tragically after a 27-year-old Nyanga man gruesomely murdered his brother following a beer binge.  
The siblings — Samuel and Simudzai Sokiri (31) — could not agree on how to share the two grammes of gold they had panned in Nyamutongere, Mozambique. 
The murder occurred in Chimusasa Village under Chief Katerere. 
Samuel vanished soon after committing the heinous crime and is still at large. 
"Samuel, Simudzai and their friends — Aloise Nyamatanga and Freddy Mukonowamwere — were drinking beer at Chimusasa Business Centre when an altercation ensued between the two brothers. They started fighting and Samuel hit Simudzai. 
"The latter fell to the ground and lost consciousness. The other three men left him there and proceeded home. 
"Kembo Chimusasa later saw Simudzai and took him home. Unfortunately, he died the same night. 
"We are appealing to members of the public with information leading to Samuel's arrest to contact their nearest police station," said Insp Chananda.