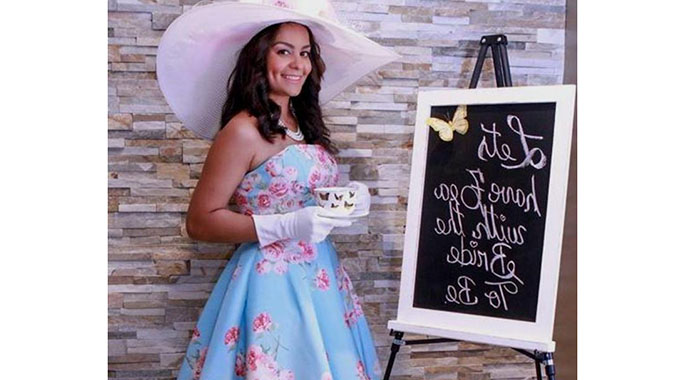 The ManicaPost
Ann Ruthenburg Fashion
HELLO folks, hope you had a good week. The rains have come, and for some it was a relief, while for some it was a disaster. Whichever way it is, we are grateful that the seasons have not failed us.
As we enter December, we resume weddings and ceremonies after the November "no wedding" rule.
This is not the wedding column, yes, but the question I am answering is "what is the best way to dress at a kitchen tea?"
This is not an easy question to answer, for the simple reason that the way you dress is dependent on the person hosting the event.
Why do I say that?
Well in this new millennium, many people's version of the traditional ceremonies has changed. We seem to have drifted away from the importance of some of these events.
Tea parties in whatever form, are supposed to be an elegant occasion, which gives you a chance to enjoy tea and snacks with your friends and family.
They can be held at a special venue or can be hosted at a home, and they are a fun event for both children and adults.
Use a tea party invitation as an excuse to dress up!
Firstly check the invitation to determine how formal the tea party will be. For most tea parties, the appropriate dress code is smart casual.
However, if you are having tea at a posh hotel, the dress might tend towards semi-formal. If the invitation does not specify, call the host and ask.
Smart casual is a dress code which is somewhat informal but in which you are still expected to be well-dressed. This can mean anything from a dressy pair of pants and a nice shirt to a dress and heels.
Feel free to express your style!
In this cool season, pair a skirt with a sweater set for a sweet, classic look. A skirt and sweater set is an outfit that's appropriate for all ages.
Pick a skirt that falls at or just below the knee. Dress up your look even more by pinning a sparkly brooch to your sweater.
Get a more modern look by pairing an Ankara skirt with a cropped sweater and your favourite heels. A stylish side hat with a bow is a fitting compliment to this outfit.
If you are concerned about the weather, adding a jacket or a shawl can help you to stay warm. A fitted jacket can dress up a trousers or can add a cool touch to a dress, while a shawl is an elegant addition to any outfit.
If you are like me, a shawl works better than a jacket. Wrap a soft knit shawl around your shoulders to add a feminine touch to a dress during cool weather.
Wear boots to finish this look. Choose simple, elegant accessories. Dress up a neutral shift dress with a long strand of pearls or a statement necklace and a simple pair of stud earrings.
Wear dressy sandals or closed-toe shoes.
You should choose a dressy pair of shoes that compliment your outfit. Open-toed shoes are acceptable during spring and summer, and closed-toe dress shoes are appropriate for any time of year.
Do not wear casual shoes like tennis shoes or flip flops.
A floral sun dress would pair well with a sun hat and wedges.
Keep your make-up polished and minimal if you wear any. You do not have to have a bare face, but a tea party is a refined occasion and your make-up should reflect that.
Keep your make-up minimal with foundation or concealer, blush, mascara, neutral eye shadows, and lipstick or lip gloss.
Choose an elegant hairstyle to accent your outfit. You can create a refined hairstyle whether you have short or long hair. Try to coordinate your hairstyle with your outfit to suit the special occasion.
If you are wearing a hat, make sure to take that into account when you are planning your hairstyle.
If you have medium-length to long hair and you are wearing a chic pantsuit, twist your hair into a chignon or a French twist.
A pretty sun-dress is the perfect outfit for wearing your hair in loose waves. If you have short hair and you are wearing a suit, gel your hair into a pompadour or wear it parted on the side or slicked straight back.
That is it from me this week folks, until next week, God bless!
Fashion Diva can be contacted on 0772933845 during working hours (only).