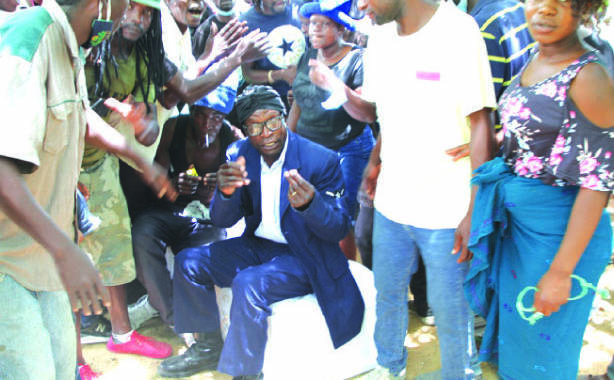 The ManicaPost
Ray Bande
Senior Reporter
"HATIDI zvekupiwa order nema sascam! (We do not take orders from fools)".
This was the main soundtrack that was belted now and again by sloshed youths as they defied appropriate and humane burial rites during 'Doctor' Kenneth Rekayi Musewe's funeral wake in Mutare's oldest high-density suburb of Sakubva.
Fondly referred to as Dhoko, Musewe was a well-known football fan in Mutare who used his God given talent to blow the trombone instrument in rendering support to all football teams based in the eastern border city.
He was 42.
But it was the drama that ensued during his funeral on Monday night until his burial on Tuesday afternoon at Dangamvura Cemetery that remained the major talking point.
On Monday night as the body was lying in state at the deceased's Sakubva home, the main road was blocked and passers-by, especially motorists, had to seek alternative routes to reach their destinations.
Drugs of different types were openly being abused while various alcohol brands — from Vhinyu to the common brown lagers — were coming from all directions.
Stoned youths could be seen engaging in various acts of mischief while local commercial sex workers had suddenly found fertile ground for their business.
Boxes of condoms were openly distributed and those who live around the area told The Manica Post that they had a busy Tuesday morning cleaning the mess.
Not even police officers deployed at the funeral on Monday night could restore order.
On the day of the burial, the hearse passed through Sakubva Stadium where dramatic scenes and mischief continued with scantily dressed women getting down to some suggestive dances.
Some of them left onlookers in shock when they removed their under garments in broad daylight.
Musewe's relatives had a torrid time getting the hearse out of the stadium as they headed to the cemetery.
Upon arriving at the graveside, the deceased's friends grabbed the coffin and demanded some money before burial could take place.
This delayed burial proceedings by about an hour.
Burial only took place following the intervention of respected Sakubva personalities such as Cecelia Gambe and Ticha Zikai.
The deceased's sister, Jacqueline Musewe, admitted that events at her brothers' funeral were the least of what they expected.
"While we appreciate the big crowd that gathered to bid farewell to my brother, I never really thought it would turn out like that.
"It was so humiliating, and I am not sure whether this is what my brother also did at other people's funerals. I do not think so," she said.
Musewe's nephew, Denford Musewe, donned female apparel, with fake breasts packed in a fitting brassiere to mimic his uncle's funny way of dressing during soccer matches.
Said Muwese: "I am dressed like this because this is how my uncle used to dress each time he went out to support football teams at Sakubva Stadium.
"The acts of mischief and misconduct we are witnessing here are not really what my uncle used to do, but obviously it is a reflection of how people have lost respect for funerals. There are people who just get over excited when they join a crowd for any social event".