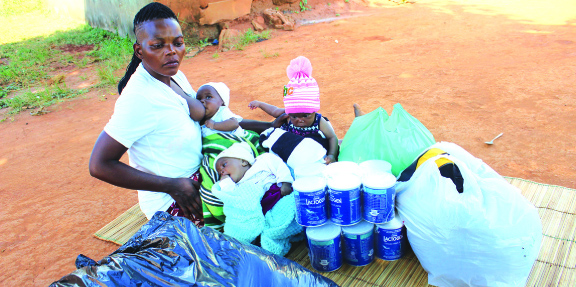 The ManicaPost
Tendai Gukutikwa
Post Reporter
IT is not how much we give, but how much love we put into giving, said the late Mother Theresa.
The Hauna Growth Point self-confessed sex worker who recently appealed for help in taking care of her four-month-old triplets has been receiving help from people across the world.
Ms Melody Muponda (30) revealed in an interview last week that her triplets have been receiving donations in cash and in kind.
Some well-wishers also dropped some donations at The Manica Post Building over the last few weeks.
Speaking while receiving the donations, Ms Muponda said she appreciates all the help that she is getting.
She said the assistance has lessened the burden.
"Following the publication of my story in The Manica Post in March and April, I have received money, clothes and baby formula from different people. I want to thank you for that.
"I want to thank those who are sending us their hard earned money and essentials for the children. Most of the well-wishers want to remain anonymous, but I would like to thank them as they have shown love to my children.
"It is not easy for someone to send money to someone they have never met, but that are doing that for me. I hope the Lord will continue blessing them and that their pockets will never run dry," she said.
Among some of the donations received so far are 12 bottles of baby formula which were donated by Windows of Hope, an organisation which deals with supplying orphaned children with baby formula and other food packs.
In an interview, the organisation's programmes officer, Mr Darlington Chikamhi said they made the donation after hearing of Ms Muponda's plight.
He said they will continue assisting the triplets with baby formula every month until they turn six months old.
"From six months, we will be supplying them with peanut butter, sugar and maize meal for a healthy porridge meal because at Windows of Hope, our main thrust is on food intervention for vulnerable children," he said.
Ms Muponda also said she was surprised to learn that her story has reached people from across the globe as she also received phone calls from the United Kingdom, USA and Australia.
"Sex work is no longer an option for me as all these people are advising me against it. I honestly did not think I would get such words of encouragement and help," she said.
Ms Muponda, however, still needs at least US$300 to start an income generating project that will help her look after her children as she wants to quit sex work for good.
"I want to sell second hand clothing, and I would appreciate if well-wishers could help me in that regard. To those who think I might convert the money to other uses, they can buy the second hand clothes and deliver them here. I would want to sell baby clothes.
''This business will change our fortune as there is a big market in Hauna," she said.
Ms Muponda's mother, Mrs Alice Mangofa also thanked well-wishers for assisting her daughter and grandchildren.
Until January 2, 2023 when she gave birth, Ms Muponda offered her sex work services across Manicaland Province and in neighbouring Mozambique.
As a result, she has no idea about her triplets' paternity.
She, however, believes that the birth of the triplets is her second chance to an honest and happy life.
Ms Muponda, who previously had no identity card managed to get one on Tuesday before acquiring birth certificates for her children on the same day.
Those willing like to assist her can contact her on 0771351020.