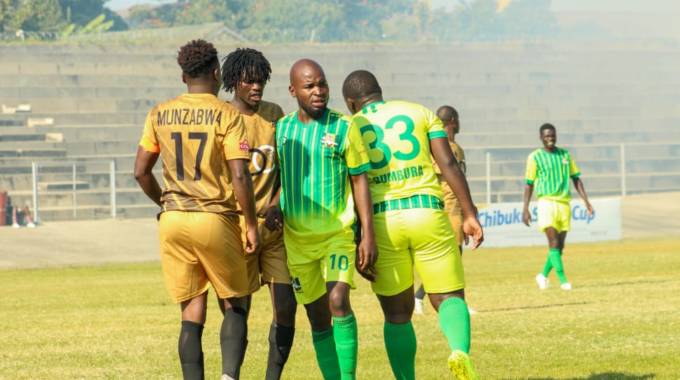 The ManicaPost
Ray Bande
Senior Reporter
MUTARE will witness its second local top-flight league derby when Manica Diamonds lock horns with Tenax FC in the Chibuku Super Cup penultimate round of matches in which the loser will likely bow out of the competition.
After four rounds of Group Three of the Chibuku Super Cup matches, both the Gem Boys and Chauya Chikara are tied on four points, while log leaders, Black Rhinos have amassed seven points.
Cranborne Bullets are second with six points.
Depending on the results between Black Rhinos and Cranborne Bullets tomorrow (Saturday), the loser between Manica Diamonds and Tenax on Sunday will only be lucky to remain with a mathematical chance of progressing in the 2021 edition of the cup competition.
And coaches for both teams fully understand what is at stake.
Gem Boys gaffer, Johanisi Nhumwa said: "It is an important match which we really have to win at all costs. Yes, it is a derby, but to me, a derby is just like any other match in terms of how we approach it. We always play to win and the same applies to a derby.
"We know the importance of this match as far as our life in the Chibuku Super Cup is concerned. Therefore, we are going all out for an outright victory. I believe we can win it."
Tenax FC coach, Shadreck 'Father' Mugurasave said: "It is obvious that Manica Diamonds will be on a revenge mission after we beat them in the reverse fixture, but I think that will not deter us from playing our usual game.
"We have to win it so that we widen our chances of progressing to the next stage of the competition. We are not reading too much into what transpired in the previous match. To us, it is water under the bridge, and we just have to concentrate on the oncoming encounter with the hope of collecting maximum points."
Tenax are coming into Sunday's encounter after losing to Black Rhinos in Wednesday's match in which Harare-based referee, Washington Chari's conduct before and during the encounter was a bad advert to the game of football in general, and the standards of match officiating in the country in particular.
Black Rhinos won the match through second half goals from new recruit, Blessing Mleya, who scored from the spot and Edgar Mhungu who tapped home from close range to double the lead for Rhinos four minutes into added time.
However, for reasons that are yet to be established, Chari, together with his fourth assistant referee, Pedzisai Chadya, arrived late for the encounter resulting in a 53 minutes delay.
As if that was enough, Chari went on to spoil an otherwise entertaining encounter with some dubious decisions that were ostensibly meant to decide the result of the match in favour of the Harare army outfit, no wonder, on a number of occasions, the match had to briefly stop as Tenax FC players bitterly protested against his clearly unfair decisions.
That the match had to start 53 minutes late, even in the presence of match officials who had handled the match between Manica Diamonds and Cranborne Bullets in the morning and could have easily been reassigned to officiate the afternoon match again, gives credence to Tenax FC faithful who believe Chari was a mercenary on mission to decide the result of the encounter.
On the other hand, Nhumwa was left disappointed after his team only managed to salvage a point against Premiership newcomers, Cranborne Bullets on Wednesday.
The result meant that Cranborne Bullets took four points from head-to-head clashes against the Gem Boys after the Harare army outfit outplayed the Mutare side 1-0 in the reverse fixture.