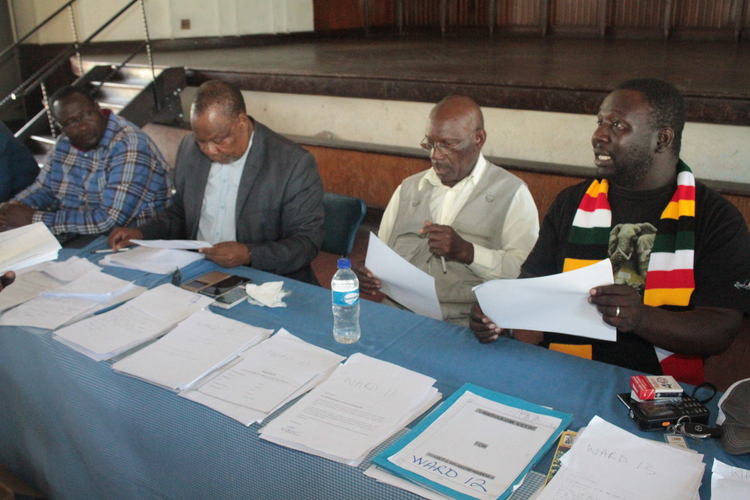 The ManicaPost
Samuel Kadungure and Nyore Madzianike Senior Reporters
Zanu-PF Manicaland has been challenged to vet aspiring candidates against the backdrop of strengths, weaknesses, opportunities, threats and political mood within constituencies and avoid imposing those who stand little chance of winning both parliamentary and council elections.
This follows complains that some party officials eyeing certain constituencies were flexing their muscles to elbow powerful aspiring party cadres who fit the bill and command grassroots support.
Some aspiring candidates were allegedly sitting in the selection panel and deliberately disqualifying some aspirants to protect their turf.
Tens of aspiring candidates and incumbent MPs were disqualified especially in Makoni, Buhera and Mutasa for allegedly failing to meet criteria, triggering protests from party supporters in the affected constituencies.
Minister of State for Provincial Affairs Senator Monica Mutsvangwa said time has changed and the electorate is now motivated by politicians who operate above narrow political lines and in conformity with values they (constituents) embrace.
Senator Mutsvangwa said Zanu-PF should have no difficulty with candidates that are the choices of people. She said party leaders should be motivated more by what the people want ahead of self-serving interests.
"For us to realise the vision of our leader Cde Emmerson Mnangagwa let our vetting be free, fair and peacefully," said Senator Mutsvangwa.
"We might have difference of opinion when choosing aspiring candidates within the party, but we have rules and regulations which outlines how the party importantly needs people to elect leaders of their own choice. These regulations says if there is an aspiring candidate who is wanted more by people or who performs more than you on the ground, do not go bad-mouthing or use unfair advantage to push out that person. Stop bad-mouthing those candidates that are wanted by people, and let them stand. If we fail to do that and embrace what the grassroots want, we will derail our and compromise the chances of the party," she said.
Senator Mutsvangwa said Zanu-PF's success in the next election hinges on whether or not the constituents know its aspiring candidates and in which way. She called on party cadres to embrace each other, appreciate their uniqueness, unite and work towards coming up with a winning formula for the party.
Senator Mutsvangwa said the party officials should rise above narrow ambitions, insensitivity, selfishness, greed and stop confusing self-perceived entitlement as suitability for political leadership.
She said imposition of candidates will compromise the party's chance of winning the elections.
Senator Mutsvangwa said imposition of candidates should not be tolerated as it is used to oil the corruptive affinities that can drive the party astray.
She said Zanu-PF's job can only be made easier if constituency, senatorial, provincial and ward representatives are voluntarily chosen by people.
"Let us remain united and show maturity. People will elect a leader of their choice and if we impose a candidate who is not wanted by people on the ground, the electorate will not vote for that candidate in the general elections. They will protest and vote for the opposition candidates, and Zanu-PF will lose the elections. If Zanu-PF wins in the elections it means everyone has won, even if you are not standing as a candidate. Let us bear that in mind. We cannot be all leaders," she said.
Zanu-PF provincial chairman Cde Mike Madiro said they would take a rigorous audit into reports and vetting of aspiring candidates from the party's eight districts.
Cde Madiro said his committee would reflect on complaints raised by some aspiring candidates from districts, especially Makoni, Buhera and Nyanga.
"In actual fact that is minor in the sense that there is no one who presided over the vetting process who has the final authority to disqualify anyone. Whatever has been done is going to be audited and we are going to make sure that there are no corners which have been cut.
"If there is anyone who has gone out of the rail we are going to put them back into the rail and try to solve the problems. There are isolated cases of that nature and we feel we are able to solve those concerns," he said.
Cde Madiro said the vetting process was participatory and the number of people who expressed willingness to stand in the primary elections was overwhelming.
He said aspiring candidates should be alive to reading economic and financial implications of the activities of the constituencies and councils to be able to make useful contributions to debates about how best to serve the interests of the people in a more meaningful and better way.