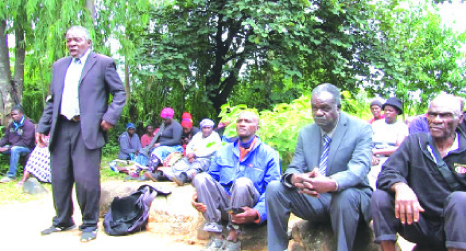 The ManicaPost
Tendai Gukutikwa
Weekender Reporter
A MUTARE family is demanding their 77-year-old father figure to undergo DNA tests to confirm if they are of the same bloodline.
The relationship between Turai William Zunga and his relatives has deteriorated to its lowest ebb, resulting in other family members demanding DNA tests for him and all his off-spring.
When the family appeared before Headman Chigodora's court last on Saturday, the elderly Zunga's nephew, Charles Zunga, led the onslaught against him.
Charles accused the septuagenarian of not being part of the family, stating that rumours of his grandmother's alleged promiscuity were awash as he grew up.
"My brother, Phillemon Zunga had a meeting with other Zunga family members which I failed to attend due to ill-health. During that meeting, they agreed that I was no longer part of the family. They all signed a declaration that I had ceased to be their blood relative because of my failure to attend that meeting, yet I was not feeling well.
"Weeks later, they called me to another meeting and Charles confronted and told me that I was not part of the family. He told me that he had heard that my mother was promiscuous and I was born out of wedlock.
"I want him to show me my actual father. He seems to know his whereabouts for him to utter such words. DNA tests should be done to prove his utterances," said Turai.
"This is an abomination. Charles is very wet behind the ears. I was in my 20s when he was born and his utterances show how disrespectful he is to me and my late mother. He should tell this court how I was conceived. He is accusing my mother, who is also his paternal grandmother, of promiscuity, which is unheard of.
"Before his utterances, I never heard of such rumours. Ever since Charles came from Bulawayo where he stays, he has turned every family member against me through his falsehoods. If these unfounded allegations are not properly handled, they will divide the family," said Turai.
Asked why he was accusing his elderly uncle of not being part of the family, Charles said he has heard rumours that Turai was not his grandfather's offspring.
"Everyone here knows how our uncle was conceived. I heard that my grandmother was promiscuous. She was also a drunkard. She was caught red-handed being intimate with another man despite being married to my grandfather.
"She conceived Turai thereafter and we are now questioning his paternity. I heard that when my grandfather tried to send my grandmother packing, she refused. When my grandfather failed to divorce my grandmother, she gave birth to a son and named her Turai," said Charles.
He also insisted that Turai killed his father by poisoning his beer.
He told the court that before the alcohol poisoning, Turai attempted to murder his father by hiring goons to execute the task.
"When we were young, at one time, Turai tried to kill my father and the hired assassins confessed having been sent by him. Turai later succeeded in his mission to eliminate my father by poisoning his beer. I was there and I heard my father complaining that he had drunk poisoned beer," he said.
In response, Turai fumed: "Charles is also accusing me of killing my brother. He claims that I poisoned his father's beer, resulting in his death some years back, yet they are the ones who were buying their father alcohol. They were disregarding his doctor's advice for him to stop drinking beer.
"I also suffer from the disease which claimed his life. My brother's children would not listen, they kept buying him alcohol and his health deteriorated. He died as a result of their actions, but now Charles is accusing me of killing his father – my own brother. I loved my brother. He is the one who looked after me when we were in Bulawayo. He also secured employment for me," said Turai.
Another Zunga, Phillimon, said they severed ties with Turai for snubbing family gatherings.
"We decided to cut ties with him over his failure to attend family gatherings. It showed that he never wanted to be part of us. It also confirms the rumours that we are not of the same blood. His behaviour is very questionable. Our family has well behaved people, we are all of the Beta totem and it is claimed that he is of the Chirandu totem, this is why our behaviour differ," he said.
Turai begged the family to consult traditional healers to ascertain the truth.
Headman Chigodora ordered the family to go for DNA tests.
He also transferred the matter to Acting Chief Zimunya's court.