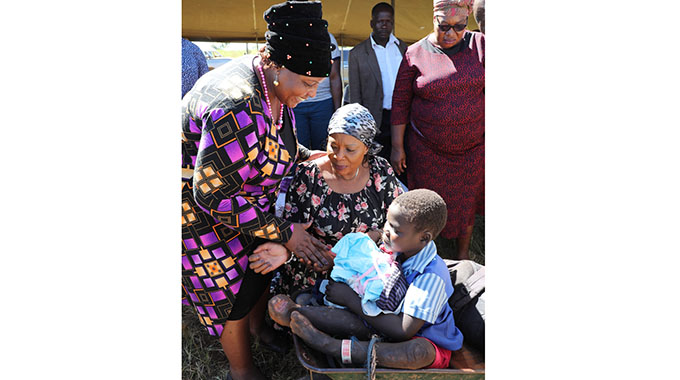 The ManicaPost
Rumbidzayi Zinyuke Senior Reporter
First Lady Auxillia Mnangagwa has called on society to take an active role in ensuring that the vulnerable people in communities are not neglected.
She was speaking at Iraq Business Centre in Chipinge last week where she met a 13-year-old girl living with disability,whose grandparents have not been able to afford to take her to the doctor after she developed sores that were festering on her stumps.
Abandoned by her mother whose whereabouts remain unknown, Nancy Moyo has been staying with her grandparents.
However, due to lack of resources, she has not been going to school since she has to be pushed around in a wheelbarrow for her to be mobile.
Amai Mnangagwa, who was moved by the child's plight instructed the local leadership to ensure that the child was taken to hospital to receive the necessary attention.
"This is not good. How can a child develop such sores and no one takes action? Please make sure that this child is taken to the hospital, she needs attention as soon as possible," she said.
The First Lady handed over various foodstuffs and utensils to Nancy and promised to follow up on her case to see how far the local leadership would have helped her.
The First Lady has been engaging people living with disability with a view of finding ways of improving their welfare and the key grievance aired by the community was stigma and discrimination.
This week she met with the disabled community where she called for citizens to treat persons with disabilities as normal human beings and respect their rights and dignity.
The girl's grandfather, Mr Peter Maimutsa (74) said Nancy's parents had divorced soon after her birth and he and his wife had been taking care of her.
He said he needed assistance to take care of his grandchild and be able to send her to school so that she could grow up with the same opportunities in life as her peers.
Mr Raphel Zongoro from the department of Social Welfare in Chipinge said Nancy had not been taken to hospital yet as the district was still looking for a car to transport her from her home.
"Her grandfather had said he would bring her today so that we can visit a doctor but he called to say he had failed. We are now in the process of looking for a car to ferry her from her home to hospital," he said.
He said by end of day (yesterday) they would have made progress on the issue.