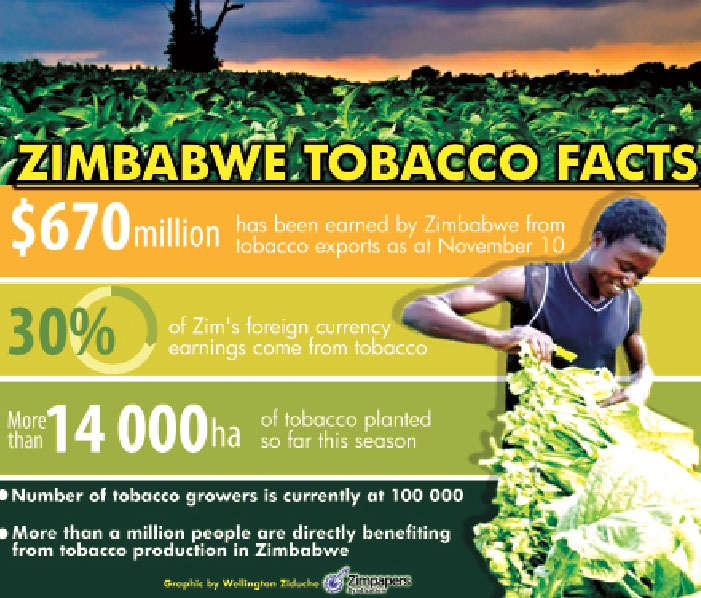 The ManicaPost
Rumbidzayi Zinyuke
As India hosts the seventh session of the Conference of the Parties (COP7) which has brought together all 180 parties of the World Health Organisation's Framework Convention on Tobacco Control, millions of tobacco growers have been left to stew over what one sided policies will emerge from the meeting which has deliberately sidelined them.
The WHO's FCTC on Tuesday launched a project which will offer countries support to strengthen implementation of the global tobacco control treaty.
Among its obligations, the treaty commits countries to ban or restrict tobacco advertising, promotion and sponsorship, and to place large graphic health warnings on cigarette packs.
The treaty also obligates members to implement measures to protect non-smokers from second-hand smoke, increase the price of tobacco products to discourage its use, liminate the illicit trade of tobacco products as well as regulate the content of tobacco products and require public disclosure of ingredients.
While it proposes that governments assist tobacco producers, assuming that they will be under long-term impacts with the reduction in demand for tobacco, WHO has not included the same farmers in the decision making process despite repeated appeals.
Instead, farmers' pleas have been dismissed as "interferences".
This prompted demonstrations by Indian farmers against what they call a "non-democratic" way of framing policies at the ongoing global conference.
They said that WHO's FCTC conference will negatively impact the lives and livelihoods of millions of Indians associated with the tobacco industry.
"Tobacco control measures need to be more inclusive and should not be decided only by health officials and activists, but should allow participation from tobacco growers and realistically acknowledge the problems they face," said Murali Babu, general secretary of Federation of All India Farmer Associations (FAIFA).
While Indian farmers were at the front and centre at the demonstrations in Greater Noida, millions more tobacco farmers, particularly in Africa, are similarly piqued that their fate could be sealed by people who do not have their interests at heart.
The International Tobacco Growers Association has also expressed its concern with the WHO FCTC noting that growers are seeking proper consultation and active participation in the development of policies directly affecting them.
"Growers also want recognition of the significant economic contribution tobacco growing brings to their national economies; and solid impact assessments to be carried out when the Convention proposes measures.
"Tobacco is not only an important, but in most cases, the main cash crop for many agriculture-based economies, and it helps to enhance the livelihoods of millions of farmers, rural workers and their families across the globe," said the ITGA in a statement.
Southern African countries have been major producers of tobacco over the past decades and have markedly increased reliance on export receipts from the crop.
Zimbabwe, Zambia and Malawi are among the highest producers of the golden leaf in the world.
Malawi has become one of the five largest tobacco producers in the world, with tobacco sales making up 70 percent of Malawi's income.
But 10 years after the signing of the treaty, some of Malawi's major tobacco buyers have started implementing the FCTC, obviously leading to reduced demand.
With already high levels of poverty, Malawi could plunge deeper into poverty affecting millions of rural folk who work in tobacco field.
The same applies to Zambia.
Zambia has come out and said banning tobacco production and trade is not an option considering the number of rural communities who rely on the crop for survival.
Earlier this year, Deputy Minister of Agriculture Maxas Ng'onga said a ban on tobacco production and trade could worsen poverty in the country.
According to him, Zambia cannot manage to ignore the tobacco industry which contributes three percent to GDP and employs more than 450 000 people generating much needed foreign exchange through exports.
Zimbabwe tobacco industry officials have also said adopting anti-tobacco policies will cripple the economy.
The country commands an important position in the global tobacco market accounting for 20 percent of the world's flue-cured tobacco output.
Tobacco has earned the country more than $600 million in export revenues as at November 10 this year. It contributes about 30 percent of total exports and nearly 10 percent of GDP to directly benefit more than a million people.
The number of tobacco growers has grown significantly in the past two decades to reach 100 000.
With so many African people relying on proceeds from tobacco, analysts have questioned if African producers did not shoot themselves in the foot by signing the anti-tobacco treaty.
Because in the years since the adoption of the treaty, Chile, Russia and China among many other major tobacco consumers, have put in place tough regulations to reduce public smoking which has seen the demand for cigarettes going down significantly.
It is not surprising that revenues from tobacco could start declining and developing countries that rely on tobacco will be the first to suffer.
What the FCTC is really seeking is to eventually phase out tobacco production.
But without any fall back solutions, Africa is doomed.
Despite acknowledging the health concerns surrounding smoking tobacco, which is among the deadliest killers globally, African economies need to survive.
Considering the slump in prices of minerals, which has affected most African economies' growth, a tobacco ban could bring economies to their knees.
So this could be the wakeup call that these nations need to start diversifying away from minerals and tobacco.
But for that to happen, Africa needs new strategies going forward.
Although Articles 17 and 18 focus on the provision of economically sustainable alternatives to tobacco growing and protection of the environment, very little research on alternative, economically viable crops has been undertaken.
Farmers need viable solutions to ensure a sustainable future for them and their families. If those solutions do not come from the FCTC conference, then Africa could have a problem where policies keep being implemented with no end to the problem in sight.
"Growers and their associations recognise the need to try to curb tobacco consumption but, for more than a decade since its inception, despite repeated requests to participate in the biennial FCTC COP meetings, they have not been afforded one single opportunity to present the realities of their sector.
"The Convention continues to grossly underestimate the consequences of the measures it proposes, refusing to acknowledge that most will irreparably damage livelihoods of millions of tobacco-growers and their families — often in the world's poorest countries — while still failing to curb consumption," read the ITGA statement.
Maybe, just maybe, prohibition of tobacco products might not the best solution.
This will just result in tobacco products being smuggled through other channels into those countries that have enforced prohibitory measures. And they will still have many smoking related deaths.
Maybe engaging the smoker and making him aware of alternative sources of nicotine could work better than the scare tactics being used currently. — Zimpapers Syndication.