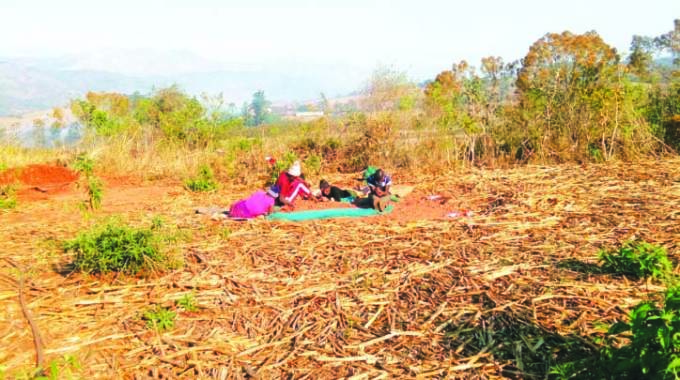 The ManicaPost
Cletus Mushanawani and LuthandoMapepa
HUNDREDS of illegal diamond panners and foreign nationals believed to be buyers are flocking to Chimanimani following the reported discovery of alluvial diamonds near Charleswood Farm.
This has resulted in all sorts of cars ranging from the latest SUVs to trucks descending on the area, while flea market traders have set up base there.
Though security personnel have been deployed to thwart the illegal activities, the daring panners had resorted to a cat-and -mouse games with the law enforcement agents.
Some of the panners were reportedly greasing the palms of unscrupulous law enforcement agents and Zimbabwe Consolidated Diamond Company (ZCDC) security officials seconded to the area to gain entry.
Chimanimani District Development Coordinator Mr Joseph Manyurapasi, Officer Commanding Chipinge District, Chief Superintendent Kennedy Nyaumwe and Chief Chikukwa all confirmed the influx of illegal diamond panners in the area.
The illegal panning activities have disturbed operations at nearby farms, especially a Mr Jeketere's plot which is now littered with open shafts.
The panners are also encroaching on his homestead.
"We have had an influx of artisanal miners in Chimanimani in recent weeks. They invaded Charleswood area. However, the police have managed to move in to clear the area. Some of them are still lingering around hoping for an opportunity to carry on with their illegal activities.
"From what we have gathered, there is nothing much in terms of diamonds being obtained from the areas where the panners are camped.
"Some people had already set up flea markets there, but the volume of traffic has increased in the past few days. We hope normalcy will return to the area very soon," said Mr Manyurapasi.
Chief Superintendent Nyaumwe said they had deployed more law enforcement agents to disperse illegal panners at Charleswood.
"We have deployed our security details to protect the area from illegal panners who have invaded it. More security officers will be send there to restore order. We are not going to tolerate any forms of corruption on the part of our teams deployed there. All those found on the wrong side of the law by promoting illegal activities will be dealt with accordingly," said Chief Superintendant Nyaumwe.
Chief Chikukwa said the influx of people in his area was a threat to the social fabric.
"We now have so many people in our area. We first heard of the diamond rush rumour a few months ago and it died down. However, more people are now flocking here and this poses a threat to our social fabric. I was on the ground and there are a lot of people converging there. A lot of corruption is happening as some of the people tasked with providing security are conniving with the illegal panners. I have all the necessary evidence, be it pictures, audios and videos of the corrupt activities happening at Charleswood.
"These illegal panners have destroyed a villager's field. I understand the area is under ZCDC and they must ensure that the locals also benefit from these diamonds through a community share ownership trust," said Chief Chikukwa.
ZCDC said they will investigate what is happening on the ground, while Manicaland provincial mines officer, a Mr Mugandani, was said to be in a meeting when contacted for comment.
Investigations by The Manica Post revealed that the diamond rush was a confirmation of the recent geographical survey carried out by ZCDC in 2017 in Chimanimani which showed that there is a rich diamond belt stretching from Tilbury down to Mozambique.
Chimanimani Assistant District Development Coordinator, Mr Tawona Nengomasha also confirmed the development and said land exploration was conducted by the diamond company some time back, but nothing was being done in terms of proper mining.
"Samples were extracted by the diamond company on the land in question sometimes in 2016 and the stakeholders involved agreed that the 50 families staying there should be moved.
"The families were supposed to be relocated to an identified place. They were supposed to receive their compensation first. However, Cyclone Idai hit the district in 2019 and everything was stalled. Villagers are still occupying the land and we are told that some of them are involved in the illegal panning," he said.
Mr Nengomasha said illegal panning is now a security threat to the Chimanimani community.
"Farming and timber production is now difficult because of the illegal panning happening here. Panners are everywhere," he added. A panner who identified himself as Ngorima said the diamonds they are getting are almost similar to the ones found in Chiadzwa.
"It has been two months since we camped here at Charleswood panning for alluvial diamonds. These diamonds were discovered in a resettlement area by local villagers.
"The diamonds are easy to extract since they are close to the surface. While security details were recently deployed here, we are still finding our way to the shafts. Initially, we were paying them US$1, but they are now demanding US$10 for us to pan at night," said Ngorima.