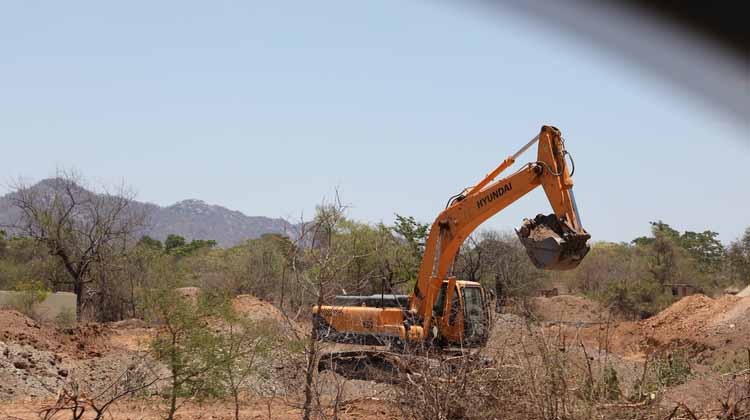 The ManicaPost
Ray Bande Senior Reporter
THE Zimbabwe Consolidated Diamond Company (ZCDC) has intensified diamond mining by spreading its tentacles from Chiadzwa to Murazvu Village A adjacent to Wengezi, along the Mutare-Masvingo highway, where evaluation and exploration works are in full throttle. Responding to questions from Brussels, Belgium, where he is attending the Kimberley Process Certification Scheme (KPCS) meeting, ZCDC chief executive Dr Moris Mpofu said the company was carrying out evaluation and exploration work in the Murazvu Village A.
"It is work in progress. The evaluation and exploration processes are still underway. The area for Wengezi pipe under exploration is 4.1 hectares. We have a valid EIA certificate for Wengezi pipe which was awarded in August 2018. It is valid for two years," he said.
Geological exploration is the process of finding commercially viable mineral resource and the objective is to locate it in the shortest possible time and at the lowest possible cost.
Dr Mpofu also explained exploration processes.
"Wengezi Kimberlite pipe is currently under an exploration programme whose objective is assessing mineralisation and economic viability of the pipe by evaluating the geo technical parameters which include size, structure, grade, quality of diamonds and resource estimation.
"The scope of work is mainly limited to trenching to competent rock with the delineated kimberlite footprint. Bulk sampling of the kimberlite (potential diamond primary host rock) will then follow thereafter of the excavated material from the trenches. Mapping of the different kimberlite intrusion phases has been conducted. The identified different kimberlite phases, from the trench material, have been sampled and are being processed differently to determine their grades and quality. Previous processed samples taken from the same site have indicated that the kimberlite is diamondiferous. However, there is need for more samples to be collected to determine consistency and viability," he said.
However, villagers living a few yards from the Murazvu Village A site, and who hardly understand the gist of evaluation and exploration in mining, complained bitterly about being overlooked from unemployment.
They also complained of inhaling dust raised from the ZCDC mechanised operations.
When The Manica Post visited the site this week, villagers were milling around the new site.
Passage from the Mutare-Masvingo highway to the site is also not restricted and only security details manning the area are responsible for questioning and intercepting intruders.
Mr Jonathan Mutindori (35), whose homestead is just a few metres away from huge heaps of rubble dumped by earthmoving machinery during exploration, said they had resorted to watching in awe as exploration works unfold on their door step.
"I was born and bred in this area and did not know about these diamonds
until 2005 when gwejas besieged this area. It took less than a week for the then Mbada Diamonds to fence the whole area, including our farm land. Technically that meant they took away our source of livelihood. They promised to provide us with food until they get a new area to relocate us.
"That was it. We got nothing and have been struggling to make ends meet. They resurfaced last year when they pulled down their fence and we then reclaimed our farm land and started tilling our fields.
"This year EMA officials came here to assess the feasibility of mining operations. We bitterly complained that it would render us landless and expose us to health risks.
Mr Douglas Manjoro, also of the same area, said ZCDC was recruiting employees from different areas to work on the site while they remained jobless.
"It is painful that we are not being employed yet they are mining and recruiting people from other areas to work on our farm land. Our homes are a few yards from where mining is taking place. Why are they bringing people from Harare to do menial chores while we remain unemployed? They should at least employ us so that we are able to feed our families," he said.