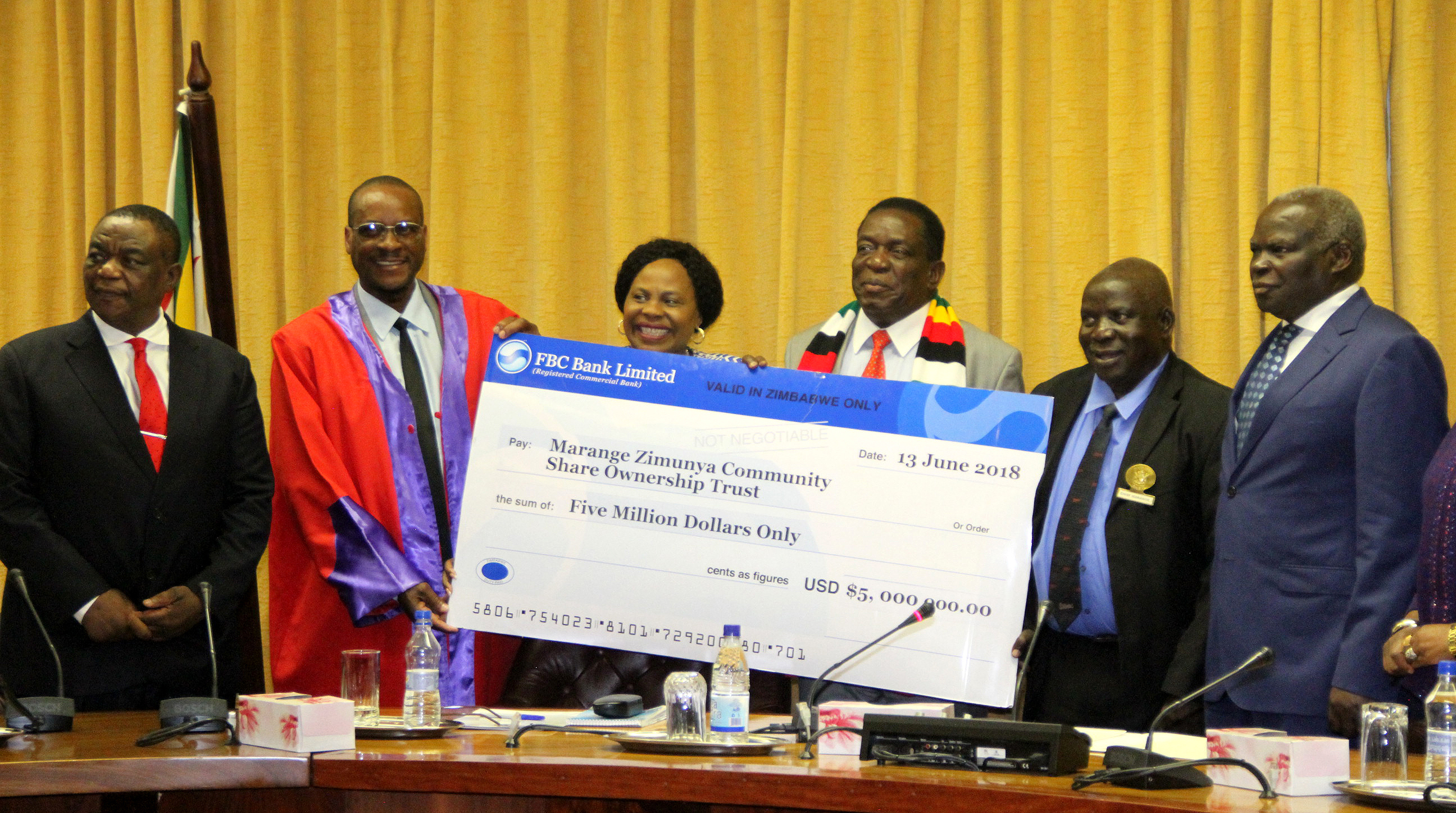 The ManicaPost
Abel Zhakata Senior Reporter
THE  Marange-Zimunya Community Share Trust will receive $5 million annually from Government through the Zimbabwe Consolidated Diamond Company (ZCDC) in line with President Mnangagwa's empowerment projects to ensure villagers benefit from diamond proceeds.
Chairman of the trust, Chief Zimunya, revealed this on Tuesday soon after receiving the initial $5 million which was deposited into the trust's CBZ account.
In separate interviews with The Manica Post, Chiefs Zimunya and Marange, who rotate annually to chair the trust, said the new political dispensation was walking the talk.
They said the $5 million was duly deposited into their account just 24 hours after President Mnangagwa handed them a symbolic cheque at a function held in Harare on Monday.
In 2012, diamond mining companies that were operating in Chiadzwa pledged $50 million towards the Marange-Zimunya Trust but they only released $500 000.
Efforts by the trust to claim its share and develop surrounding communities yielded nothing as the diamond companies changed goal posts.
"This is refreshing and encouraging," said Chief Zimunya.
"In July 2012, we received a cheque from companies that were mining in Chiadzwa but we did not get anything. For years we have been complaining that our community is lagging behind yet we have diamonds that are being mined at our doorstep. We went to Harare and had a meeting with President Mnangagwa who promised to fulfil the promises that were never met by the previous miners.
"Because of that consultation with the President, ZCDC on Tuesday deposited $5million into our trust account. As I speak right now, the money is in our account. I want to thank the President for fulfilling the promise. Cde Mnangagwa is walking the talk. He promised to give us the money and that amount is now in the bag. It's there for everyone to see," he said.
Chief Zimunya said it shows that the President has people at heart.
"This money is going to help communities and spur development. We will start by finishing projects that we had started with the $500 000 that we were given. These projects are in Mutare South and North. This money has come at the right time and work should be done. Every year we are going to receive $5 million and we hope those disbursements will go a long way to improve the lives of ordinary people," he said.
Chief Marange said President Mnangagwa was a man of action.
"The ball is now in our court. That money should be used responsibly and must be accounted for. It's one thing to receive money and another to use it wisely. We need to develop our communities and that development must be seen. It should be visible for all to see," he said.
When he handed the $5 million cheque to the trust on Monday President Mnangagwa said the fund must ensure sustainable economic development in Marange and Zimunya.
"This noble initiative by the State mining company will complement Government's efforts to build developed and progressive communities as we continue with our quest for inclusive growth and broad-based empowerment under the present national development agenda.
"As highlighted in Vision 2030, my Government remains committed to broad-based empowerment through multi-faceted strategies, including community share ownership trusts. To this end, I urge all companies to intensify community development programmes so that communities benefit from the natural resource endowments in their environment. This will spur rural development and undoubtedly contribute to the development of strong rural and provincial economies, further resulting in the widespread improvement of the standard of living of our people throughout the country," he said.
President Mnangagwa said the revitalisation of the Marange-Zimunya Trust was pleasing.
"It is our fervent hope that through this vehicle, some of the developmental needs of these communities will be addressed, further impacting on Manicaland as a whole," he said.