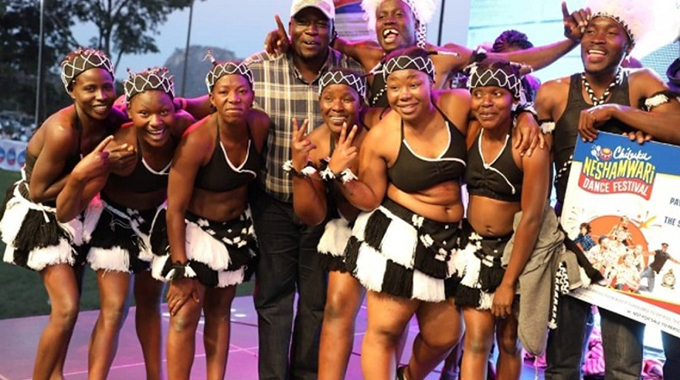 The ManicaPost
Liberty Dube Entertainment Correspondent
GURUVE Marimba from Mashonaland Central out-danced nine other groups from across the country to clinch top spot in this year's intriguing and tightly-contested Chibuku Neshamwari traditional dance national competitions held last Saturday at Mutare Show-grounds.
The group which exhibited a flawless dinhe dance walked away with $7 000 and a trip to China while second-placed Makarekare Ensemble from Mashonaland East received $5 000. Bolamba Arts from Gwanda walked away $3 000 richer.
The going went tough for Mutare representatives, Dhumatasangana who failed to enter into top five despite putting up a sterling performance. The group leader Thulani Hombarume said: "It was a tough competition. Every group deserved to win. We believe we put up our best performance although our best was not good enough. We learnt a lot from the competition and I believe we will bounce back," he said.
One of the adjudicators, Taurai Moyo described the event as competitive. He however, believes Dhumatasangana could have done better. Moyo is the executive director of Zimbabwe International Schools Arts Festival Trust.
"When groups win the provincial ticket to represent their province they must hire resource persons to help them to polish and work on aspects considered during the competition. Many groups were lacking choreography and stage formations. No doubt Guruve Marimba was the most outstanding group. They came prepared for the contest," he said.
Guruve Marimba manager, Zacharia Five said he was elated to win the title. "We are happy that we came out tops. It was a tight competition but we managed to sail through. We are looking forward to the China trip," he said.
This year's competition was merged with the Dream Star talent search competition finals in order to incorporate the contemporary dances from Dream Star. Ballet dancers Peter Lense and Ndineyi Alfazima came out tops and pocketed $3 000 and will be joining the Guruve Marimba dancers on the trip to China.
The Chosen and The Forgotten Tribe were second and third and pocketed $2 000 and $1 000 respectively.