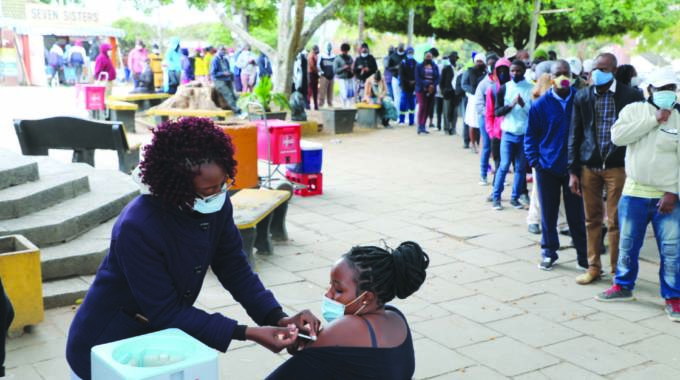 The ManicaPost
Post Reporters
AS members of the public turn out in huge numbers to get vaccinated against Covid-19, unscrupulous health personnel are now cashing in on the situation as they facilitate for the impatient ones to jump the queue in return for some kickbacks, it has emerged.
A brief survey conducted by this publication across Manicaland's health institutions revealed that some health personnel were involved in the underhand dealings.
For instance, health personnel at the seven Mutare City Council clinics are demanding anything between US$1 and US$10 for one to jump the long winding queues.
After paying the bribe, the person is quickly vaccinated through the back door.
Investigations conducted by The Manica Post this week also revealed that some young people are also waking up early in the morning to join vaccination queues.
They then relinquish their places to those willing to pay US$3.
According to the Manicaland Provincial Covid-19 Taskforce, 153 513 people from across the province had received their first jabs by Wednesday, while 88 070 people had received their second jabs as of Wednesday.
As demand for the Covid-19 jabs surge, a card system has since been put in place at most clinics to maintain order and guard against the corrupt dealings.
Mutare City Council spokesperson, Mr Spren Mutiwi could neither deny nor confirm the corruption cases being reported at the council clinics.
"Residents are coming in droves to be vaccinated and this has resulted in long winding queues. Such situations are a breeding ground for corruption, but as of now we have not received any report against our workers.
"We do not condone such behaviour. Such unfair practices are not tolerated," he said.
Mr Brendon Maisiri who got his first jab at Dangamvura Poly Clinic said he paid US$3 to jump the queue.
"I came early in the morning but more than 100 people were already in the queue. I was approached by a guy who asked if I was interested in paying him for his 15th position.
"I needed to be vaccinated as I was the only one who was yet to receive the jab at my workplace. I had to pay him," said Mr Maisiri.
A woman who only identified herself as Lynette said she was linked to a nurse working at Chikanga Clinic by a friend.
"My friend just made a phone call and we went together to see the nurse. I gave her US$5 to jump the queue. It only took me 10 minutes to be attended to," said Lynette.
Long queues are also characterising vaccination points at Vengere, Tsanzaguru and Mabvazuva Clinics, as well as Rusape General Hospital. Unfortunately, some health institutions in Rusape ran out of Covid-19 vaccination cards, with some trying to improvise by photocopying them.
Early this week at Vengere and Mabvazuva Clinics, people were being asked to bring makeshift cards where their personal details, date of next dose and the vaccine batch number were being captured.
Those vaccinated would have the cards stamped at the council offices opposite Vengere Clinic.
At Rusape General Hospital, authorities had to stop handing out photocopied vaccination cards due to poor quality and fear of forgery.
Makoni District Medical Officer (DMO), Dr Tendai Nyafesa said the situation is dire and said funerals and other gatherings are proving to be super spreaders of the virus.
"On Friday, we recorded 76 new infections, the highest in the district so far. Most of those infected recently attended funerals and other social gatherings," said Dr Nyafesa.
Dr Nyafesa said Makoni received 6000 doses of the Sinovac vaccine last week on Saturday, half of which had already been used by Monday.
"The vaccination uptake has gone up by more than 80 percent and the 6000 doses we received last Saturday is not adequate due to the demand," said Dr Nyafesa.
Chipinge District also recorded a sharp increase in the number of those seeking Covid-19 vaccination.
As of Wednesday, 20980 residents had received the first doses, while13094 had received their second doses.
"We have recorded a sharp increase in the number of people coming for vaccination. The vaccination programme has now been decentralised to villages and the response is positive," said Chipinge DMO, Dr Brian Makumbe.
"We will continue monitoring the situation. People are still overcrowding the Registry offices, bus temini and shops. This is contributing to the growing number of the positive cases we are recording," he said.