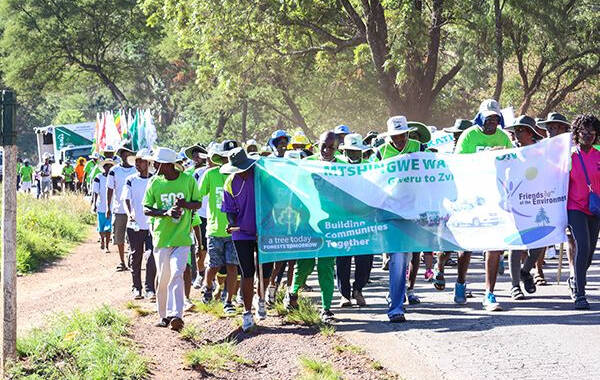 The ManicaPost
Tendai Gukutikwa
Post Reporter
FRIENDS of the Environment (FOTE) will next week host its annual walkathon as part of its continuous efforts to raise awareness on the need for everyone to participate in tree planting.
In an interview, Nyaradzo Group's Mutare branch administrator, Mr Derek Ndebele said a mini-day walkathon will also be held in Mutare on December 2, while the main event will take place in Masvingo from November 30 to December 3.
In Masvingo, participants will walk for a distance of 105km from Gokomere through Masvingo to Nyika Growth Point.
"This year, we take this very important message to Masvingo Province over a period of four days. Day Four is when we will have the tree planting at Nyika Growth Point. As we move closer to 2026, our watershed year for the 500 million tree target, we feel confident that with the support of all Zimbabweans, we will make it," he said.
He said they have a target to plant 60 000 trees this year.
The Year 2022 marks 13 years of walking for trees for FOTE and its partners as they have been going around the country establishing tree seedling nurseries and planting trees.
Mr Ndebele said in Makoni District alone, FOTE did a pilot project in 2019 and equipped 64 000 households with 100 trees each. He said that alone is proof that the 500 million trees will be planted under the initiative.
The Mutare Walkathon will be held from Zuva Service Station along the Mutare-Harare Highway to Africa University on December 2.
Mr Ndebele said FOTE was initiated by like-minded Zimbabweans who care for the environment.
"Primarily you are looking at the Nyaradzo Group, other partners in the mining industry, education and retail sectors. Basically, what we are saying is that by 2026, we want to have planted 500 million trees across the country.
"To attain that, we organise walkathons to raise awareness about issues that have to do with the environment, climate change, climate resilience and ecosystem restoration. To increase participation, we decentralise the walkathon and host both the main walk and mini-day walks in all provinces. This is done to give every aspiring participant a chance to participate from where they are," he said.
The total distance that will be covered across the nation is 255km.
Registration is US$10 and is being done at assigned Nyaradzo Group offices in Bulawayo, Manicaland, Mashonaland Central, Mashonaland East, Mashonaland West, Mashonaland North, Midlands and Matabeleland South.
However, registration for the main walk is already closed.
For someone outside Zimbabwe or in an area where the walkathon is not being conducted physically, the virtual option is open, but they also need to register.
The walkathon is being conducted under the hashtags #PlantATreeToday #ClimateResilience #EcosystemRestoration #FoteWalkathon.