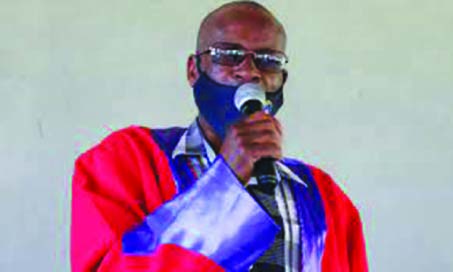 The ManicaPost
Liberty Dube
Post Correspondent
A HEADMANSHIP wrangle recently took an ugly twist in Zimunya after a traditional leader was confronted and threatened with death by unknown people.
Headman Gombakomba (Mr Mathias Gombakomba) is alleged to have been visited by six men last week on Saturday masquerading as law enforcement agents and threatened him with death if he fails to step down from his position.
The men later confessed that they were not law enforcement agents, but had been sent by unnamed close relatives eyeing his throne.
Headman Gombakomba who superintends over seven villages, Gombakomba, Nhereunze, Museta, Marware, Chandinofira, Mukwecheni and Chidziya villages has since filed a police report at Zimunya Police Base.
In an interview on Tuesday, Headman Gombakomba said he was now living in fear following last weekend's visit.
He said the assailants claimed that they were sent by his relatives.
"They visited my homestead last week on Saturday at night. We had already retired to bed when they knocked at the door and demanded to see me. I asked for their identification, but they refused. They initially told me that they were businessmen who wanted to buy cattle from me.
"Sensing danger, I called my nearby relatives. They quickly responded and I came out of the house and confronted them. They changed their statement and claimed to be law enforcement agents. Among the group there was a local businessman's 15-year-old son (name withheld). I managed to positively identify him. They said my appointment as the headman was illegitimate.
"We argued for some time and they later confessed that they were sent by some relatives, but refused to disclose their names. They asked me to see them off, but I refused. They asked for my phone number and I gave them. They started texting me hours later threatening me with death. They accused me of being greedy, saying my brother, Barnabas was the rightful heir to the throne," said Headman Gombakomba.
He added: "They further told me that I was too young to be the headman as there is Barnabas who is older than me. One of the text messages read: "Mdara ndiregerereiwo, mutumwa haana mbonje, takanga tatumwawo. Asi tinokutaurirai kuti maifanirwa kufa gore rino."
Headman Gombakomba said his brother, Barnabas distanced himself from the group.
"Barnabas professed ignorance over the issue, saying he was content with his position as village head. I trusted him, but I was confused when the assailants implicated his wife, Barbra, saying she was the one who had sent them. I also asked Barbra about the issue, but she also professed ignorance as well. I reported the matter to the police. I told my fellow traditional leaders in the area and they advised me to take the matter seriously," added Headman Gombakomba.
Ms Mandeya is expected to appear before Headman Muradzikwa on September 19 over the issue.
When contacted for a comment, Acting Chief Zimunya, said: "I have nothing much to say about this issue. Mathias (Headman Gombakomba) should resolve his issues without grandstanding. I have gathered that he has a dispute with some villagers over the sale of a beast.
"I don't think he is being honest by saying that there are people who want to dethrone him. He called and briefed me about the incident, but there is more to this issue."
In a telephone interview, Barnabas said: "I was with him (Headman Gombakomba) recently to try to get to the bottom of the whole saga. What is emerging is that he is at loggerheads with the so-called assailants over the issue of a beast. A transaction of US$130 was made, but it is not clear who owes who? What is puzzling us is that the anonymous assailants are implicating me and my wife (Barbra)."
Manicaland provincial police spokesperson, Inspector Luxson Chananda, said: "I have not received such a report. I will check with my colleagues in Zimunya. However, sending death threats to someone, either through text messages is a crime under the Post and Telecommunications Act," he said.