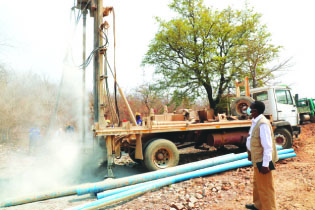 The ManicaPost
Ray Bande
Senior Reporter
THE District Development Fund (DDF) is now at different stages of maintaining 12 out of 21 major rural roads in Manicaland under the National Emergency Road Rehabilitation Programme (NERRP) Two.
The quasi-Government department under the Office of the President, which is tasked with the development and maintenance of infrastructure and water supplies as well as plant and tillage services, has since upped its tempo across the province since the declaration of a state of emergency on the country's roads early this year.
DDF has so far used US$1 113 165 in resuscitating roads across Manicaland under NERRP, while more than US$4 million is needed to fully implement the project.
The estimated total cost is US$5 766 551.
In an interview on the sidelines of a tour of projects in Chimanimani and Chipinge districts last week on Thursday, DDF permanent secretary Mr Christopher Shumba, said they were racing against time to ensure that they cover as much ground as possible before the onset of the rainy season.
Mr Shumba said they were confident of achieving set targets by the end of the year.
"We are happy with the progress that have been made in terms of road maintenance in Manicaland. Yes, there could be room for improvement, but starting maintenance work on 15 roads so far is an achievement. We hope we will be able to cover as much as ground as we can before the start of the rainy season.
"We have a total of 23 roads that we intend to resuscitate or provide maintenance works in Manicaland. We hope that by the end of the year we should have covered considerable amount of work," said Mr Shumba.
Among other maintenance works that have been carried out on different roads, 96km of grading, 13 450 cubic metres of gravel stockpiling and 9,3 spot gravelling have already been covered for the Nyazvidzi Parallel road in Buhera district, while Changamire road which connects Runyararo Village (formerly West End Farm) to Chimanimani main road has seen 10,9km light bush being cleared, 20 160 cubic metres gravel stockpiled, 15,4km road reformed, 14,5km gravelled and 10,9km drain opening, already done.
Piped drift for Chiendambuya-St Benedicts road is 78 percent complete, with five out of seven openings launched, while 19km grading has already been covered for Kuhudzai-Gwese road in Mutare district.
For Mombane-Muswe road in Makoni district, 23km bush has been cleared, 18,4km graded and 5 480 cubic metres gravel stockpiled.
However, there are other roads where maintenance work is to start.
These include Quinton-Mahenye, Manzvire-Rimai-Mariya roads in Chipinge District, Nyashanu-Betera Road in Buhera district and Muuyuweburi-Muroti Road in Chimanimani district among others.
Maintenance work on Gutaurare-Himalaya and Mwandiambira-Mushunje roads, both under Mutare district, have been completed.
In February, the Government resolved that all roads in the country be declared a state of disaster in order to facilitate the release of funds for maintenance and repair works.
Zimbabwe national road network excluding urban roads, which are in a dire state, totals 76 241km, of which only 9 256km (12,1 percent) are bitumen surfaced.
However, most of these roads now require complete rehabilitation as they are aged over 30 years.
During last Thursday's tour, Mr Shumba also gave an update on the progress in the provision of safe drinking water through drilling of boreholes in different areas around Manicaland.
"Manicaland was allocated $18,4 million from the fiscus meant for drilling of boreholes. The target was 49 boreholes. So far, we have covered 26 boreholes and left with 23 boreholes. As we move around during this tour, we are setting targets so that we could cover the entire 49 boreholes by the fall of this year," said Mr Shumba.