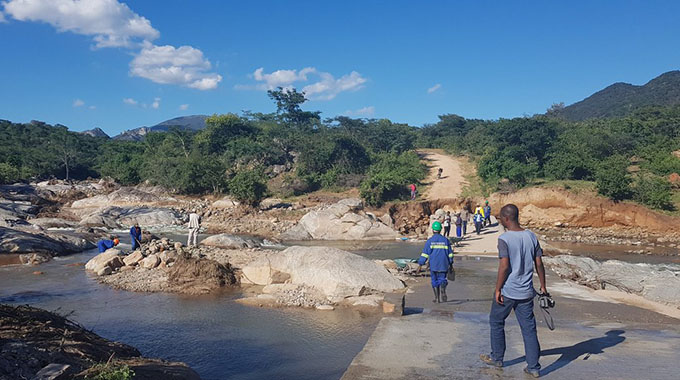 The ManicaPost
Daniel Mhonda Post Correspondent
GOVERNMENT has allocated $7,2 million to the District Development Fund (DDF) to embark on the rehabilitation of key rural infrastructure that was destroyed by Cyclone Idai in Chimanimani and Chipinge. The ravaging Cyclone Idai uprooted trees which were swept by water bodies and destroyed roads, bridges and buildings in its way, killing at least 344 and displacing hundreds in Chimanimani and Chipinge.
DDF officials toured various roads, bridges and boreholes which they have earmarked to reconstruct.
Part of the infrastructure repair works include re-building bridges, reshaping and re-gravelling the feeder roads which were no longer functional as well as repairing and flushing boreholes which were flooded during Cyclone Idai.
DDF head for Manicaland Mr Robert Chawatama said some of the roads, bridges and boreholes had become dysfunctional, affecting the day-to-day business of people in the affected areas.
"In Manicaland, we will be working on a total number of eight bridges, five causeways, 30 piped drifts, 10 inverts, l22 boreholes and 23 gravel roads which were damaged by the cyclone. So far we have started to work on eight of them.
"Only the first priority of the project has been funded and we hope by June 12 we will be done with the whole of Manicaland," he said.
Mr Chawatama said in order to cut excess costs DDF had employed locals in the projects as a way of empowering and developing their own areas.
"We have engaged the communities affected to help us on the reconstruction of the roads and bridges, depending on the amount of work to be done. At most of the points we employed 50 locals, 15 being women and 35 men. We gave them protective clothing and we are paying them as party time," he said.
Mr Chawatama said bridges like Mhakwe and Murare: Chimhenga-Mutambara road, Muuyuweburi-Muroti and Chitoramambwere roads are almost complete and the areas are now accessible.
He said they have been providing relief aid services in the affected areas by supplying clean drinking water.
The villagers in the affected areas were fetching water from unprotected sources, thereby exposing themselves to diseases.
"Cyclone Idai swept away more than 1 700 cattle, implying that people no longer have draft power. They need to be assisted with tillage which we will provide.
"We have tractors, but now only three out of 17 are operational, hence we need to recapitalise the tillage unit so that we can assist the affected communities," he said.