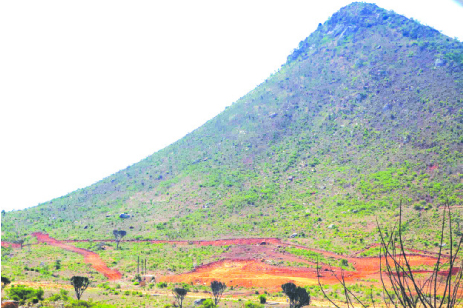 The ManicaPost
Abel Zhakata
Senior Reporter
DETECTIVES are investigating the Dangamvura Mountain quarry mining deal involving Mutare City Council and Freestone Mines (Pvt) Limited amid fierce pressure from residents and other stakeholders pushing for the rescinding of the deal.
Since residents are crying foul, arguing that the deal was fraudulently sealed without their involvement and against the dictates of good corporate governance, law enforcement agents moved in to get to the bottom of the matter.
Although CID Mutare District spokesperson, Detective Sergeant Mbato, could not comment on the investigations, saying he needed to check first, sources privy to the case revealed on Wednesday that a team of detectives visited Mutare City Council and the mine site to investigate.
"The team of detectives from CID Minerals, Fauna and Flora Unit was dispatched to the quarry mine site on a fact finding mission. They interviewed Frank Munyanduki who told them that he was employed as the project manager by Freestone Mines.
"The detectives were told that the other company directors were not at the site because they were busy processing documents ahead of the commencement of mining operations. Investigations are still in progress," said the source.
On Wednesday,the city fathers held a no-holds barred stakeholders meeting at Mutare Hall where the local authority said the deal was in the best interest of the city since it was one of the many income generating projects lined up to fund council projects.
Although mayor, Councillor Blessing Tandi, argued that due process was followed in crafting the deal, residents called for the cancelling of the lease, saying environmental degradation and other health scares caused by quarry mining at that particular site outweigh the projected benefits.
They said the US$7500 council would receive from Freestone Mines as monthly rentals was peanuts.
However, the council vowed to go ahead with the deal, with Councillor Tandi offering to resign if anything goes wrong as feared.
"We did our homework as a local authority to find out how best we could do quarry mining in view of the environmental, infrastructural and social factors. As we speak, all quarry stones that we use in resurfacing our roads are being acquired from Marondera.
"As council, we thought it was best that we have a local plant that produces these stones for us at a cheaper price. That is why we flighted tenders for a quarry mine," said Councillor Tandi.
He said council did the necessary due process in tendering for the plant and the project was awarded to Freestones Mines.
All consultations were done, he said, and they were now surprised why people are arguing otherwise.
"We offered Freestones Mines the land to carryout quarry mining after all due process was done. We entered into a lease agreement with them, but mining has not yet started because they are still to do the Environmental Impact Assessment. I know you have genuine concerns over the safety of the adjacent water pipeline, water tanks, the Feruka fuel pipeline and nearby communities.
"We have thoroughly done our homework. I cannot sanction the setting up of a mining plant that will destroy a water pipeline that took more than a decade to construct. I will resign if this quarry mining plant destroys the infrastructure that you fear it will.
"Your fears will be addressed by the Environmental Impact Assessment. The type of mining and explosive that will be used at that plant are different from the ones you know from long back. Technology has evolved over the years, and I assure you that the type of mining that will be carried out at this quarry mine is friendly to nearby infrastructure. We are leaving no stone unturned to have an investment that does not damage infrastructure. That plant is of new-age technology, and you do not need to worry about your water tanks and pipeline," he said.
Former Mutare mayor, Mr Brian James, said council was doing well to generate income, but expressed reservations on the location of the quarry mine.
He said the local authority should take that project to a distant location, and not play games with residents' lives.
United Mutare Residents and Ratepayers Association deputy director, Mr Eddie Dube, said quarry mining was a major cause of environmental degradation.
He said several houses in Dangamvura and Fern Valley developed cracks because of quarry mining activities that were done in the past which resulted in the local authority closing those mines.
He said for council to agree to set-up a similar plant at a site close to the one that was shutdown decades ago smacks of corruption.
"The community should have played a key role over this issue, but no consultations were done. Residents are against this set-up, and council must heed their call and cancel the lease," he said.
Some residents said Dangamvura Mountain was of sentimental value, and it was in bad taste for council to deface it through quarry mining.
They said there were several other ventures the local authority could pursue at the site that rake in more revenue than the US$7500 the city will be getting from Freestones Mines.