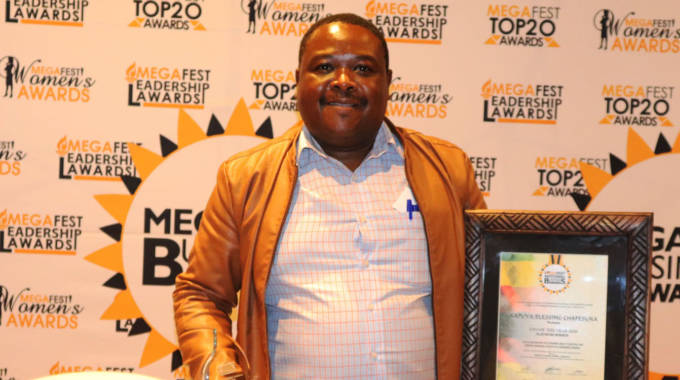 The ManicaPost
Cletus Mushanawani
News Editor
THE controversy surrounding the Dangamvura Mountain quarry deal was finally put to rest last week following mutual consent between Mutare City Council and Freestone Mines to cancel the lease agreement, it has been established.
Freestone Mines, through their Harare-based attorneys, Mushoriwa Pasi Corporate Attorneys wrote to the local authority notifying them of the cancellation of the five-year mining lease.
Acting Town Clerk, Mr Blessing Chafesuka in his report to the local authority's Business Investment and Economic Development Committee report on Tuesday confirmed the development.
Newly elected Mutare Mayor, Councillor Simon Chabuka also confirmed the development in an interview on Wednesday.
Mr Chafesuka's report reads in part: "Freestone Mines has, through its lawyers, given a written notice of its intention to cancel the lease agreement No MU/S23/19 . . . Freestone Mines entered into a lease agreement with council on the 30th of August 2021 after being awarded a tender to carry out quarry stone mine activities at Stand Number 13415 Mutare Township, Mutare. Freestone Mines took note of the resistance from different people and stakeholders who are totally against the project . . ."
Councillor Chabuka said the mining deal had very small benefits for the city in terms of revenue.
"The residents spoke and we listened to their concerns. Who are we to go against the wishes of the residents? Over 5 000 residents signed a petition against the quarry mine project and their wishes should be respected," said Councillor Chabuka.
"Although I am yet to get the full details on the cancellation of the lease agreement, I made it clear from the day I was elected Mayor that we would re-look into the issue.
"The cancellation of the lease agreement is a positive development. In terms of the lease agreement, council was liable for the repairs of any damaged infrastructure during the mining process. Miners were supposed to pay about US$7 000 annually as lease fees, with council expected to pocket US$600, which was not going to be enough to carry out repairs on damaged infrastructure.
"The mine is very close to the Dangamvura water pipeline and tanks. Residents were bound to suffer more from water shortages as mining activities were bound to cause burst pipes. In coming up with these agreements, we should look at the long term benefits and their impacts on residents' livelihoods and their health," said the newly elected Mayor.
He said if it had been allowed to continue, the mining exercise would have had a huge bearing on the environment.
"Mutare is mountainous, hence the name Kumakomoyo. There will be no Mutare to talk about if we destroy these mountains, the same applies to Chinhoyi if we destroy Chinhoyi Caves. If we fill the Victoria Falls gorge with sand, there will be no Victoria Falls to talk about. These mountains are our natural wonder and should be protected at all costs," he said.
Last week, Environment, Climate, Tourism and Hospitality Industry Deputy Minister, Honourable Barbara Rwodzi said Government will not allow mining projects that have the potential to affect people's lives and their health to continue.
"Manicaland is one of the provinces mostly affected by the vagaries of extreme weather conditions and we cannot allow activities that weaken mountains to go on.
"Look at what happened in Chimanimani when lives and infrastructure were lost due to Cyclone Idai. If we weaken mountains, what will happen when cyclones strike? This will cause more infrastructural damage and loss of lives as the wind and storm breakers would have been weakened," she said.
A resident, Mr Aaron Chemvura was excited following the cancellation of the tender but demanded answers on how it had been awarded in the first place.
"Let us not be sidetracked by this victory. Residents need answers on what really transpired in this whole deal to enable us to safeguard a repeat of the same in the future," said Mr Chemvura.