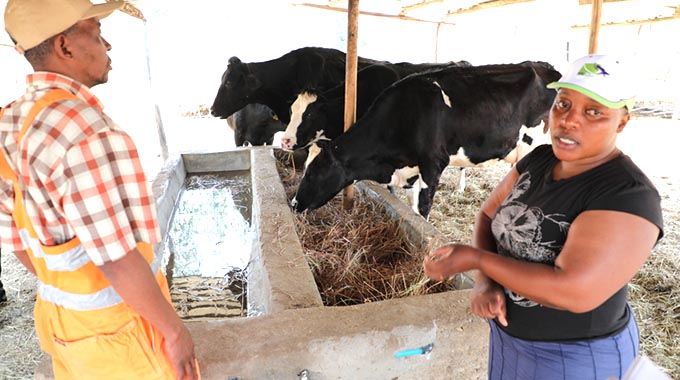 The ManicaPost
Rumbidzayi Zinyuke Senior Business Reporter
As the country grapples with persistent electricity shortages, small scale dairy farmers in Mutasa district are contemplating venturing into biogas production to improve efficiency and cut down on production costs.
Zimbabwe's dairy production has been on an upward trajectory in the last few years after decades of low production, but farmers are still operating at low capacity as a result of a difficult operating environment.
For small scale farmers, the shortage of electricity has also been one challenge that has affected them significantly, along with other production costs that have left them struggling to keep up.
Power shortages have resulted in lower production for most businesses and the shortage of fuel as an alternative energy source has also made it imperative to consider renewable energy sources as the go-to solution.
Mutasa district is adopting a unique model where smallholder farmers are being capacitated to ensure that they can implement the biogas projects effectively.
According to Mutasa District Development Co-ordinator Mr Tendai Kapenzi, the Rural Electrification Agency (REA) has offered to train two farmers per district on biogas digesters, a development dairy farmers intend to maximise on to ensure that they increase milk production at reduced costs.
Mr Kapenzi says the district plans to cluster dairy farmers at Tsonzo, Sinara and Honde Valley for them to work as groups to make implementation easier.
Business Post had an opportunity to visit one such dairy farmer at Bonda area, who intends to join into the biogas project.
Mr Lewin Sithole and his wife Rudo have constructed a state-of the art milking parlour at their homestead, complete with two septic tanks that they are using to collect cow dung, which could be fuel for a biogas digester.
Mrs Sithole says their vision is to ensure that their dairy project grows to become self-sufficient by 2030. This means it has to be generating its own power to cool the giant 2400 litre milk tank they have installed.
The milking parlour, which is fully automated, has a capacity to hold 45 cows at any given time.
"We started with only five heifers, now we have 12 and we want to grow the heard. Because of the small space that we have, we cannot bring in a bull so we rely on artificial insemination to grow our heard," she said.
"This way it also becomes cheaper for us to get the exact breed we want at a fraction of the cost. We can have a cow that can adapt to the environment that we have here and give us just as much milk."
To enhance production and improve self-sustainability, the family, which has registered their business under 1686 Dairies, invested in a grinding mill to make their own feed.
"We are feeling the heat because feed is expensive. For now, we only produce enough feed for six months and we have to buy feed for the remainder of the year. We hope to get more land this season so that we increase maize productionto last us the whole year," said Mrs Sithole.
To supplement the dairy project, the Sitholes are also running a milk goat project. Mrs Sithole said they are breeding Sanen goats. As a new project, they are still getting about 10 litres per day but once the project grows, as is their plan, they hope to be getting between 8 and 10 litres per day from each goat.
"Goat milk is rich in protein and it is healthy. This is the best milk for flavoured drinks. In Zimbabwe we have problems with genetics, because we cannot do artificial insemination as we do with the cows, there is a lot of inbreeding which affects the quality of milk.  We however plan to keep this breed pure to enhance milk production," Mrs Sithole said.
"We hope to have another milking palour for the goats once we reach 25 goats. We want this project to grow to about 200 goats by 2030 because it has low production costs. We are selling these male goats to fund the dairy project because dairy is expensive it needs constant capital injection."
The milking parlour needs about 18KV of power to run efficiently and the Sitholes are currently using a generatorwhen they need to cool the milk to keep it fresh until it is collected.
But because of the fuel shortages and the high cost of diesel, this has become unsustainable and they are hoping to turn to solar in the near future and eventually supplement with biogas.
"We collect cow dung on a daily basis from the shed as we clean it out for the cows to sleep in a clean environment. As they clean out the shed, the water, along with some of the dung is drained into a 3,3 cubic metre septic tank where it is sieved to separate the water from the solid waste. The water then goes into another 9cubic metre septic tank," said Mr Sithole.
He said the water is then collectedusing buckets to irrigatefeeding grass forthe cows. The manure is also used in the fields.
"For now the solid waste goes into the fieldsbut we are already collecting enough to feed a small biogas digester. We will never run out of cow dung because these cows will always produce it. At the moment because we have a small herd, we are getting five wheelbarrows of dung per day and it takes about three weeks to fill the 3,3 cubic septic tank. But once we have increased our head, we will definitely have more," Mrs Sithole said.
Mr Kapenzi said the Sitholes' project could be a model of how small scale dairy farmers can become self-sustaining for increased production.
"We have farmers in Tsonzo, Sinara and Honde Valley and we want to use this project (Sithole's) as a centre so that everywhere where there is manure, it is used for biogas as a source of energy. The bigger vision is there to produce milk, but in as much as they are producing milk, we want to reduce costs, we can use solar and biogas. Why should we be getting electricity from REA when we can produce it ourselves?" he said
He said once the Sitholes have reached full capacity, they can train other smallholder farmers in the community as part of rural development.
"We want farmers to look into value addition. In future want to process, pack and sell our own milk, make our own yoghurt and cheese targeting foreign markets," Mr Kapenzi said.
"We should capacitate family businesses to be able to sustain their operations just as it is being done in India where there is a thriving rural industry. Our small scale farmers can actually grow this economy."
Mr Sithole agreed that small scale farmers could sustain the dairy industry, but called on Government to capacitate them to help them achieve this.
"You donot need large spaces to do dairy. Everyone can do dairy even when they are in communal areas. We are saying Government should capacitate us with the technology and the machinery and we will do the rest," he said.