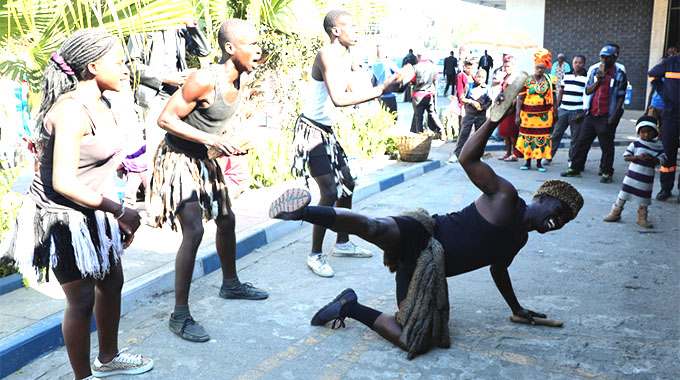 The ManicaPost
Kudakwashe Chidziya and Osbert Mashonganyika Entertainment Correspondents
"IT does not only sound good, but it is also inspirational, lyrically rich and well choreographed. If they could stay in Mutare for long, who could resist their emotional voices and choreographies?"
These were the appreciative words from one of Mutare female music fanatics Kudzaishe Magurei (38), who was part of the crowd that thronged the main street to witness a mob-captivating performance by the Arts Laboratory Band (ALB), Tuesday afternoon.
The band performed at various venues during their five-day stint in the eastern border city. Music fans had a rare appreciation of the band's unique fusion of the mbende Jerusalem cultural dance.
As the gigantic male choreographers took to the dance floor to the one of the band's trending hits ''Poto Inezondo'', women music lovers were left ecstatic and in admiration of the choreographers' rigorous waist wriggling antics.
As such money flew from the crowd, with mostly coins rattling the ground.
High pitched screams, laughter and giggles made an elated sound which drew even the most pretentious from all corners of Mutare's CBD.
Speaking to The Manica Post after their cameo act along the main street, ALB leader Rishon Murandu said music and identity were intertwined.
He said they chose the cultural genre to revive the waning taste of our cultural music as proud Zimbabweans.
"We sing and perform the mbende Jerusalem music genre — which is a fusion of our traditional 'dembe' and modern instruments. Historically it is referred to as the ancient fertility dance — 'Dembe' or 'Mbende' — a Shona word for 'mole' which signified fertility; hence the dance became popular with the locals.
"We are nine in our group, comprising two female backing vocalists. We exist to uphold our culture through music, and I am very happy with manner in which our fans in Mutare responded to our performances.
"They exuded originality and their pride in our African culture. Some even admitted they missed traditional dance, and the reception here in Mutare was outstanding," he said.
In Zimbabwe mbende Jerusarema is most popular in Murehwa and Uzumba Maramba Pfungwe (UMP) in Mashonaland East.
The genre has since been celebrated countrywide with musicians such as Mukudzei ''Jah Prayzah'' singing about it in his 2015 released album Jerusarema.
The band has four audio albums and two video albums with the first album being recorded in 2007.
Apart from street performances, ALB also performs at educational events.
They also perform at festivals and their recent performance was at the Hurungwe Arts Festival.