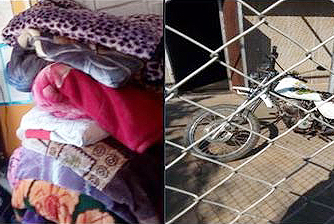 The ManicaPost
Breakings in residential and business places make some of the persistent crimes of concern that have kept both the police and the public on their toes. We have visited and revisited this area for the purpose of keeping our eyes and ears alive to  the possibility of their occurrence so as to protect most movable property which is often the target by criminals.
Theft from our premises have been committed by people who gain unauthorised entry into premises (called by law Unlawful Entry) to steal and those who steal having been permitted access into the premises or where no premises is involved (called Theft).
It has emerged that cases of Unlawful Entry and Theft have been largely due to lapses in vigilance and relaxation of security facility.
We discuss this week some of the tips to remember to prevent theft of property through cases of Unlawful Entry and Theft.
◆ Ensure your employees are vetted for verification of their criminal record. This could be either through the police, checks with previous employers or any other person or institution that might be privy to his or her record of conduct.
◆ Regularly check the effectiveness of your security systems/facilities. Intactness of    burglar systems( bars and alarms), Locks, lights,  security fence, precast walls. Make            sure inside lights are switched off and outside lights  are switched on during the night.
◆ Ensure that all your property is tightly secured all the times. Pack away valuables from view by strangers, visitors or passerby.
◆ Employ private securities in safeguarding your premises.
◆ Utilise Closed Circuit Television (CCTV). These can be used for monitoring      employees, clients or any other activity within any premises.
They can even be played back to view overnight events or whatever happened at the premises during your absence.
In order to bring these cases to manageable levels, let us develop proactive habits that ensure we do not expose our property to theft.
There are measures that can be put in place to ensure we are able to recover property in the event it has been stolen.
◆ Take note of serial numbers of all property that has such numbers. These include most electrical gadgets, televisions, Hi-Fis, cell phones, laptops, among other.
◆ Mark property that has no maker/manufacturer serial numbers so as to be able to identify it when stolen.
◆ Quickly report all breakings and suspected thefts at premises to enable quick follow up, arrest of criminals and recovery of property.
◆ Support each other as neighbours in the prevention and investigation of these cases. Some prevention activities may require the next person to do his/her part for them to be complete, for example a person who does not put lights on the part of his house or premises might provide a hide out for criminals in an area where everyone else has put up such lights.
Let us remember that preventing crime is everyone's responsibility.
Inserted by : ZRP Mutare Central District Press and Public Relations