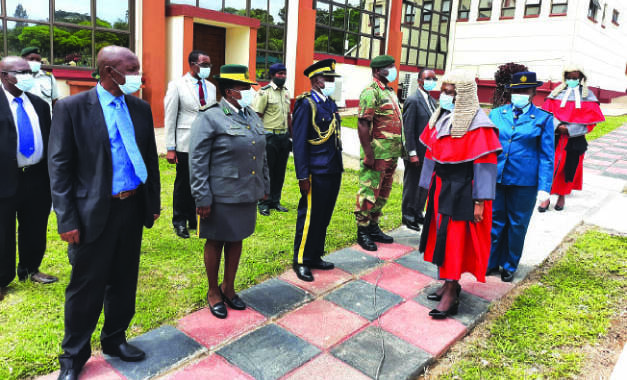 The ManicaPost
Tendai Gukutikwa
Post Correspondent
The Mutare Magistrates' court is among 10 courts earmarked nationwide for a virtual court by the Judicial Service Commission (JSC) during the course of this year, The Manica Post has leant.
The virtual courts, which will be linked directly to prison facilities, complement JSC's 2022 legal year theme: "'Use of technology to enhance efficiency and the rule of law in the Judiciary".
In a speech read on his behalf by Constitutional Court Judge, Justice Rita Makarau at the opening of the JSC 2022 legal year at Mutare High Court on Monday, Chief Justice Luke Malaba said the virtual courts will lessen the burden of court disruptions as the Covid-19 pandemic rages on.
"For more than six months in 2021, the courts were offering limited services to accused persons and litigants. This inevitably increased backlogs and further delayed the handing down of judgements.
"Therefore the imminent opening of virtual courts is a welcome development," said Chief Justice Malaba.
He said the transition to virtual courts was a giant leap in the right direction for the Judiciary, especially considering that their offices had very few technological gadgets 10 years ago.
He urged legal practitioners to embrace digital technology.
"As litigation and court appearances are going digital, I urge legal practitioners, young and old, to learn ICT.
"For the young and nimble fingered lawyers, adaptation to new technology will be easier as you already spend time on new technology gadgets," he said.
Chief Justice Malaba went on to commended the performance of the Mutare courts, stating that they posted impressive results during the course of the year 2021, including handing down judgements.
"The Mutare courts' report has no backlog, unlike other courts across the country. The Mutare High Court is carrying over only seven cases into the 2022 legal year and this is impressive," he said.
Justice Makarau said the Chief Justice had initiated the training of judges to prepare them for the new development.
"The Chief Justice has ever so gently persuaded us to learn the new technology even in our advanced ages. There will be mistakes in the process but fear of making mistakes should not deter us from moving forward with the times," she said.